Los Angeles-based rental house and digital cinema solutions provider Radiant Images unveiled an updated Novo action camera on Friday at the Cine Gear Expo. Built with the GoPro sensor and designed for cinematic use, the 3.2-ounce Novo 2K shoots uncompressed RAW and includes a C-mount lens system, PL mount adapter, back focus adjustment and exposure control capabilities. The camera was engineered by Valencia-based View Factor Studios; Radiant collaborated on design and function.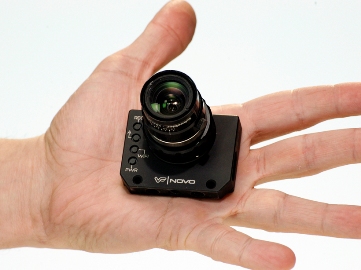 The auto exposure function standard with the GoPro can be disabled with the Novo, which enables cinematographers to use the lens to manually adjust the aperture. "The Novo achieves this while retaining all the key functionality, versatility and accessories of the GoPro Hero 3," explains the press release.
"Michael Bay's 'Transformers 4' is among the latest productions to use Radiant Image's palm-sized Novo action camera," writes ETCentric contributor Carolyn Giardina for The Hollywood Reporter, adding that Radiant co-founder Michael Mansouri told THR that a Novo 2K prototype was tapped for a David Ayer feature starring Arnold Schwarzenegger.
The original Novo "was also used for the upcoming film 'Need for Speed' directed by Scott Waugh and lensed by Shane Hurlbut," reports Giardina.
"We feel like we're moving in the opposite direction of where everybody else is going with digital cinema," Mansouri said. "At Radiant Images, we're lasered in on simplicity in design and operation, ease of use, small form factor, versatility. It's a new language of cinema and we are helping artists express themselves and achieve their vision with these new, uncomplicated tools."
The Novo camera is currently available for rental at Radiant in the U.S. and in Europe through rental partner P+S Technik. In addition to L.A., Radiant has facilities in Atlanta, Miami and New Orleans.
At Cine Gear in Los Angeles, Radiant also showcased its original palm-sized Novo camera, the new Alexa XT Plus camera from ARRI, a new "unbiased" iPhone and iPad app to search and compare cameras and specs, and a collection of custom 2D and 3D rigs and related gear (including a CC3D Gen-2 lightweight rig outfitted with twin Sony F65s, which was used on a Steadicam for the first-time during a recent 3D IMAX production in Panama).
Topics:
Alexa
,
Alexa XT Plus
,
App
,
ARRI
,
C-Mount
,
Camera
,
Cine Gear
,
Cinematographer
,
Digital Cinema
,
Exposure
,
GoPro
,
Hero3
,
IMAX
,
iOS
,
LA
,
Los Angeles
,
Need for Speed
,
Novo
,
Novo 2K
,
P+S Technik
,
PL Adaptor
,
Production
,
Radiant
,
Radiant Images
,
RAW
,
TEN
,
Transformers
,
View Factor