Charter Communications has agreed to purchase Time Warner Cable for $55.3 billion in cash and stock. Including the debt Charter will assume, the total deal is valued around $79 billion. The move follows in the wake of Comcast's attempted bid to acquire TWC. Charter will also move ahead with its purchase of Bright House Networks for $10.4 billion, and the three combined companies would make Charter the second largest TV and Internet provider in the U.S. with 24 million customers. Comcast currently holds the top spot with 27.2 million.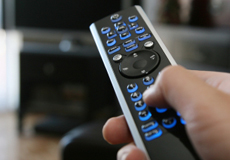 "The transaction enables Charter to almost quadruple the number of its cable subscribers, gaining 12 million customers in cities including New York, Los Angeles and Dallas," according to Bloomberg. "Dealmaking is heating up in an industry facing waning demand for traditional pay-TV packages and competition from Netflix, Amazon and other online services."
"With our larger reach, we will be able to accelerate the deployment of faster Internet speeds, state-of-the-art video experiences, and fully-featured voice products," said Charter CEO Tom Rutledge.
"Broadening its presence nationally would theoretically empower Charter to call for better pricing for content from cable networks and broadcasters and insist on certain digital rights for streaming and on-demand video," reports USA Today. "Pay-TV providers are hoping to retain their viability in the increasingly streaming world with compelling content, including live sports, and TV-everywhere capabilities that might discourage cord-cutting customers."
While cable providers have been expanding Internet offerings in order to address the recent loss of cable subscribers, regulators have been careful about handing too much power to individual companies regarding broadband Internet.
However, FCC Chairman Tom Wheeler recently spoke with Charter's Rutledge and Time Warner Cable CEO Rob Marcus to explain that any mergers would be judged on merit.
"Charter will pay $195.71 per share in the cash-and-stock deal — $100 of it in cash with the rest in Charter shares," according to USA Today. "The offer is based on Charter's 60-trading day volume weighted average price. Charter also will provide Time Warner Cable shareholders an option to receive $115 in cash and shares of the new company."