Spotify is bringing interactivity to the audio ad experience for podcasts with "Call-to-Action Cards." As part of Spotify's streaming ad-insertion platform, the CTA cards will appear in the app as soon as a podcast ad begins playing, resurfacing when a listener is exploring the app, reminding them to check out the product or service and eliminating the need to remember a promo code or URL. Advertisers can customize the CTA cards with images, text and clickable buttons. The feature makes podcast ads visually interactive for the first time, transforming the experience into something listeners can see, "and, most importantly, click."
"The cards can be customized by advertisers with their own images, text and other clickable buttons that direct listeners to 'shop now' or take some other action the advertiser is hoping to encourage," TechCrunch reports.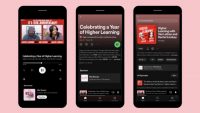 Because digital audio is "multitasking-friendly," Spotify says in a press release that "in the U.S., mobile time spent listening to audio content is now outpacing time spent on social media, video, and gaming, according to eMarketer."
Spotify head of global advertising business & platform Jay Richman introduced the CTA cards via virtual participation at CES 2022. "We think about these cards as an important step towards modernizing the format — a format that will become more capable over time, as we add shoppable and video and other interactive features," he said.
Advertisers who use the CTA cards will have access to measurement and reporting data as to confirmed impressions through the streaming ad insertion. "Spotify has heavily invested in the streaming ad insertion technology, which brought real-time targeting and reporting to podcasts," TechCrunch says, drawing the distinction between the early days, when podcasts were typically downloaded via RSS format and ads were embedded as opposed to dynamically inserted into shows.
"Audio players couldn't differentiate between which part of the program was the show's content and which part was the ad," thus measurement was primarily limited to file downloads. "With streaming audio insertion, the content itself is paused, the ad is inserted and then the content resumes after the ad completes. All of this takes place in real time," TechCrunch explains. The ad can still be skipped, but that too can be measured.
Spotify acquired Megaphone, a podcast hosting and ad company, in 2020 for $235 million "to help scale streaming ad insertion beyond its own shows to reach publishing partners through the Spotify Audience Network — a network that now includes shows from independent creators using Spotify's Anchor platform," TechCrunch writes. In December, Spotify acquired podcast tech company Whooshkaa, which helps radio broadcasters repurpose audio content as podcasts.
For more on CES 2022:
CES Hashtag — #CES2022
CES Twitter Handle — @CES
CES Facebook Page — facebook.com/CES