During the all-digital CES 2021, lidar (light detection and ranging) technology was presented as a key tool for building autonomous vehicles, smart homes and infrastructure for smart cities. Lidar, which senses what an object is based on its shape, first appeared in the 1970s but, up until now, has been too expensive and complicated for broad industrial use. Seoul Robotics, Intel's Mobileye and Blickfeld were among the companies at CES showcasing real-world lidar applications. Lidar is predicted to triple to an almost $3 billion market by 2025.
The Washington Post reports that Seoul Robotics founder and CEO Han Bin Lee unveiled "Discovery, a software and hardware service to interpret light and radar data for factories, retailers, automakers and more." The plug-and-play lidar system aims to enable "a wide range of organizations to benefit from 3D sensors," from retail stores to city traffic infrastructure. The company has already partnered with BMW and Mercedes-Benz as well as lidar company Velodyne "on office monitoring tech for Qualcomm."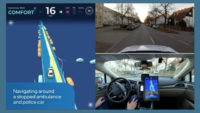 Munich-based startup Blickfeld showed Vision Mini and Vision Plus, two new lidar sensors that produce a surround-view for cars. The Mini detects closer range objects, while the larger Vision Plus can detect objects 650 feet in front of and behind self-driving cars. Six sensors are needed to create 360-degree views, "unlocking level four autonomous capabilities," according to co-founder Florian Petit. The sensors are expected to ship in three to four years.
During CES, Intel stated that it "plans to leverage crowdsourced mapping, a camera-based computer vision system and a lidar suite to achieve its goal." It purchased Mobileye in 2017 and has been "testing its mapping technology in Munich and plans to use cameras built into production vehicles to map the world." It said it has already mapped almost 621 million miles.
Wired reports how Intel's lidar-on-a-chip from Mobileye "is emblematic of Intel's way forward: looking beyond the CPU." Mobileye can use Intel's immense resources to scale up production. Mobileye CEO Amnon Shashua stated that the lidar system should be ready by 2025. Wired notes that, "about the size of a Triscuit, Mobileye's prototype integrates those lasers onto the chip itself through a process called silicon photonics … [and] relies on so-called frequency modulated continuous wave technology."
"The fact that you have velocity data at every point, this 4D measurement also gives you a huge advantage in terms of fidelity of data and what you can do with it," said Shashua. Silicon photonics is a "natural fit" for lidar, which relies on lasers.
Aeva and Voyant Photonics are others that aim to shrink lidar's size and cost, but Intel has the advantage of having a silicon photonics manufacturing facility already running in New Mexico. Shashua pointed out that, "if you don't have the special fabs to create the lidar on a chip, it becomes too expensive … It becomes unwieldy." He estimated the cost of each lidar SoC "to be in the hundreds of dollars each, orders of magnitude cheaper than what systems cost today."
Click here for more information on the speakers, panels and new products at CES 2021 (#CES2021).
Related:
CES 2021: Under the Hood with Prof. Amnon Shashua, Intel Newsroom, 1/12/21