At the recent CES 2021, Samsung showcased its Digital Cockpit, a 49-inch QLED screen with a sound system that can be pulled up in front of a car's windshield to turn the vehicle into an office, gaming room or video recording studio. The concept was first introduced at CES 2018 and has been exhibited in an updated version every year since then. This year's Digital Cockpit was developed with Harman. Samsung stated that the 2021 Cockpit aims to "focus on simplifying communication and delivering fun on-the-go experiences."
Business Insider reports that Samsung Automotive Electronics Business Team executive vice president and head of R&D Wonsik Lee added that, "the Digital Cockpit 2021 is a solution that transforms a car from transportation to a daily living and life space."
When the vehicle is "in drive mode, half of the screen can tuck away to provide a full view of the road." When it turns into an office, the cockpit can "become a video conferencing center and a video editing and recording studio," with the ability to share video across social media "or with passengers in the backseat."
With regard to entertainment, "passengers can game and watch online concerts and broadcasts inside the vehicle … [and] every headrest also comes with speakers." An integrated Automotive Samsung Health system "uses cameras, phones, and wearables to keep tabs on the conditions of its passengers" and, if necessary, "tweak its own lights, scents, and music to coax the passengers into relaxing." It also measures eyelid movement to make sure the driver stays awake.
A rear center touchscreen allows the passengers to control interior temperature and volume, and an 8.8-inch touchscreen in the center of the wheel "allows the driver to adjust entertainment systems and operate the front screen … [while] passengers in the backseat get their own adjustable display screen." The cockpit offers "an additional screen where the rearview mirror would be … [to display] different information related to traffic, roads and the weather."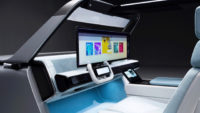 SlashGear reports that, "in default mode, the screen rests neatly behind the dashboard … [where] only half of the screen is exposed in this mode and is enough to display essential information like driving settings, vehicle speed, and navigation maps." In media mode, however, "the screen rises front and center at the blink of an eye … [and] the entire dash panel slides downwards to offer more room."
"We've seen motorized screens before, but Samsung's version is the most immersive with its 49-inch landscape," says the reviewer. The Digital Cockpit includes last year's audiovisual feature that lets the driver "communicate with pedestrians and other vehicles on the road … [and] the hood has an integrated screen to display short messages to improve pedestrian safety."
Click here for more information on the speakers, panels and new products at CES 2021 (#CES2021).
Related:
Everything You Need to Know About Samsung's Digital Cockpit 2021, Samsung Newsroom, 1/8/21
Topics:
Automotive
,
Automotive Samsung Health
,
CES
,
CES 2018
,
CES 2021
,
CTA
,
Digital Cockpit
,
Digital Health
,
Entertainment Systems
,
Gaming
,
Harman
,
Music
,
Production
,
QLED
,
Recording Studio
,
Remote Working
,
Safety
,
Samsung
,
Social Media
,
Touchscreen
,
Video Editing
,
Videoconference
,
Wearable
,
Windshield
,
Wonsik Lee