Qualcomm's CEO-elect Steve Mollenkopf shared his vision for 2014 during a CES press event, a vision that includes more robust and feature-rich operating systems enhancing the tablet market (providing opportunities for Qualcomm's mobile Snapdragon chips), a growing trend in smart wearables (including Qualcomm's Toq), and a new era of connected cars (aided by the new Snapdragon 602A). The AEC-Q100 compliant 602A is designed to meet auto industry standards for temperature, quality and longevity.
Mollenkopf suggested that "phone makers like Nokia, Samsung, LG and Sony will make a second coming in the tablet market," reports Engadget. "This becomes an opportunity for Qualcomm and carriers to cash in, with the latter coming up with more innovative and creative ways to bring in more subscriptions, such as by selling the smartphone and the tablet as a pair. Mollenkopf also name-dropped the Amazon Kindle HDX and the Nexus 7 tablets, which are all powered by his company's Snapdragon chips."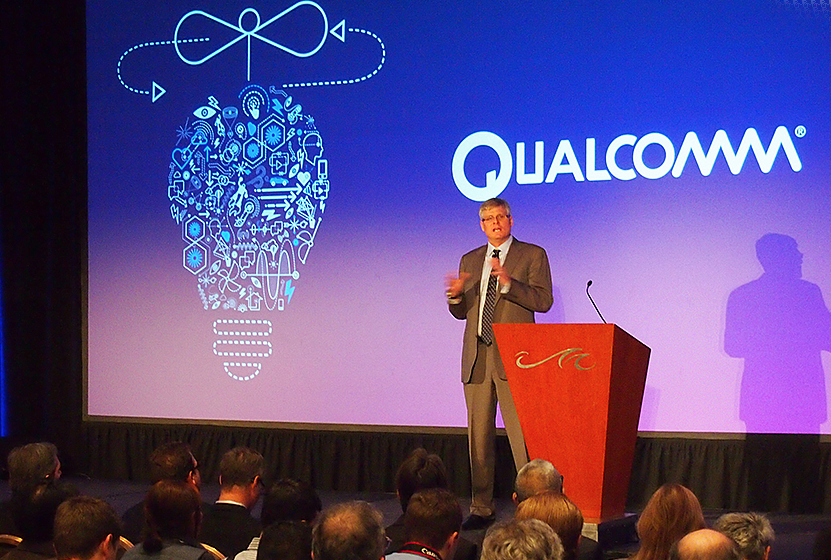 Qualcomm is also looking to improve the connected car with a new chip that powers infotainment in addition to advanced connectivity and safety features, including facial and gesture recognition.
"Despite its absence in the recently formed Open Automotive Alliance (which is joined by rival NVIDIA), the chip giant thinks it can bring its connectivity expertise to the automobile industry, which is what the recently announced Snapdragon 602A aims to achieve," notes the article.
"As with the Snapdragon 802, the goal behind the 602A is to bring the dynamic app experience of smartphones and tablets to a different environment," explains Engadget in a related post. "This means improved 3D navigation, cloud-based software and integration with mobile devices, among many other things. Support for both Android and QNX gives carmakers options for building their own infotainment systems that comply with the automotive industry's requirements, as well."
According to the company press release: "The Snapdragon 602A processor is pre-integrated with Qualcomm Gobi 9×15 multimode 3G/4G-LTE and QCA6574 Qualcomm VIVE 2-stream, dual-band 802.11ac Wi-Fi and Bluetooth LE 4.0-based modules to provide unprecedented, integrated connectivity options for connected infotainment systems."
"The next phase is the car is going to not only get connected to the Internet, but it's going to be connected to other cars, and it's going to be doing a lot more sensing on what's going on in the environment, and making decisions as to what it's going to do," explained Mollenkopf. "In order to do that, it needs to embrace technologies that are very similar to what you have in high-end smartphones."
For additional thoughts from Mollenkopf, read his Q&A with CNET during CES.
Topics:
3D
,
602A
,
Amazon
,
Android
,
Auto
,
Automobile
,
Car
,
CEA
,
CES
,
Chip
,
Chipset
,
Cloud
,
CNET
,
Connected
,
Consumer
,
Electronics
,
Feature
,
Gobi
,
Infotainment
,
Keynote
,
Kindle
,
Las Vegas
,
LG
,
LTE
,
Mobile
,
Mollenkopf
,
Navigation
,
Nexus
,
Nokia
,
Nvidia
,
OAA
,
Phone
,
Press
,
Qualcomm
,
Safety
,
Samsung
,
Show
,
Smartphone
,
Snapdragon
,
Sony
,
Tablet
,
Toq
,
Vehicle
,
Wearable