During a CES session on "The Wearable Revolution," panelists agreed that it is still early for the wearables category, but a revolution is right around the corner. Moderator Joanna Stern, personal technology columnist for The Wall Street Journal, pinpointed her main gripe: ugly, clunky watches and fitness trackers. "Will we look back at this generation and be reminded of the 25-pound laptop?" she asked. Panelists suggested the technologies that will make wearables more attractive and more effective are now being released.
Mike Bell, corporate VP/GM of Intel's New Devices Group points to Curie (below), the new Intel processor that operates at very low power and is "always on and sensing."
"Developers can create a wearable very quickly with this," said Bell.
Carmichael Roberts, partner/chair and co-founder of North Bridge Venture Partners, also founded MC10, a company exploring the development of silicon that is "stretchable and conformable."
"A wearable should feel invisible, personal and comfortable," he said. "This technology is one of the ways to address this."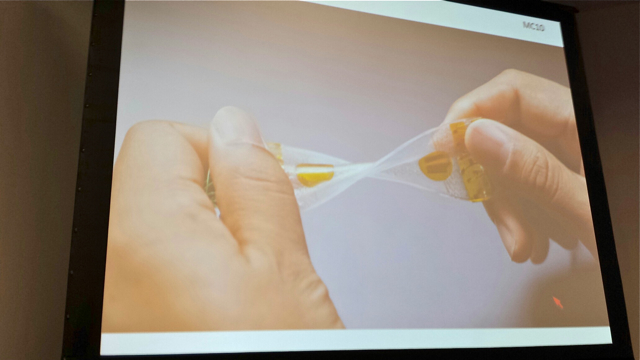 Clothing is another wearable with growth potential. Limor Schafman, founder and CEO of GlobeShift, reports that DuPont is coming out with flexible, stretchable and washable fabrics that capture data. "I've been waiting forever for these things to look good, feel good and be durable — and at the same time capture whatever kind of information we want," she said.
Bell pointed out some of the advantages of wearable tech embedded in clothing: "Clothing you wear that can prove you are you, that makes you more secure when you go to the ATM or open your door… When the technology is so small it's invisible, it's in everything you wear. You don't make trade-offs."
Schafman, who comes from a fashion background, notes that Swarovski has integrated its signature crystals with wearables. From her point of view, wearables might be branded similar to fashion names.
Fashion is also paving the way for smart eyewear, with recent announcements by Intel that it will partner with eyeglass behemoth Luxottica and sunglass manufacturer Oakley. Bell also hinted that an Intel announcement is in the wings regarding "technology that will let you have a natural looking appearance and get data."
No matter how popular wearables become, they won't replace smartphones. "The phone has become the hub, a central server that collects information," says Under Armour Connected Fitness GM Christopher Glode. "Whether it's a smartwatch or wearable device, we see the phone as being absolutely critical and not being replaced by smartwatches."
Panelists noted that numerous other wearable form factors are beginning to take off, including contact lenses that offer augmented reality and earables (wearables for the hearing impaired among audio uses).
Wearables need to connect to one another to truly reach their potential. But wearable developers also need to pay attention to another important factor. "A lot of energy goes into graphing data," Glode said. "But for real behavior change to happen, the onus is on us to make that data more motivating, to tell a story."
Topics:
2015 CES
,
Apparel
,
Augmented Reality
,
Carmichael Roberts
,
CEA
,
Christopher Glode
,
Curie
,
DuPont
,
Earables
,
Eyewear
,
Fashion
,
Fitness
,
GlobeShift
,
Health
,
Intel
,
Joanna Stern
,
Limor Schafman
,
MC10
,
Mike Bell
,
North Bridge Venture Partners
,
Oakley
,
Silicon
,
Smart Glasses
,
Smartphone
,
Smartwatch
,
Swarovski
,
Under Armour