Kodak's digital Super 8 camera was not the company's only nostalgic throwback showcased in Las Vegas. The camera company has finally entered the mobile market with its own Android smartphone – or at least a phone that licenses the Kodak name. Tech company Bullitt Group is behind the Kodak Ektra, which borrows its name from Kodak's Ektra camera from the 1940s. That makes sense, since the phone is designed to mimic a point-and-shoot camera, featuring a 21-megapixel rear cam (but no optical zoom) and vintage leather finish.
The $550 phone — making its U.S. debut at CES and available for pre-order in April — curves out at the bottom, serving as a grip in landscape mode, and features a dedicated camera button on the upper right.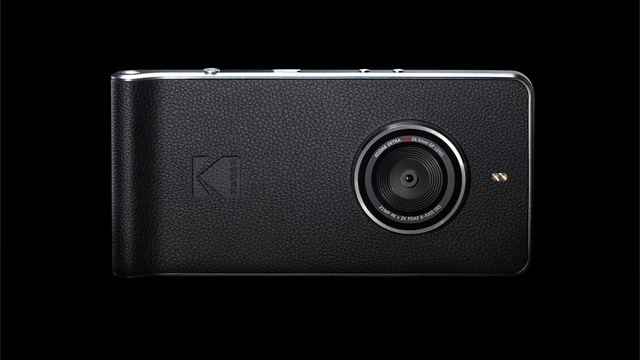 "There are no on-screen buttons," reports Digital Trends. "Instead, you use the capacitive multi-touch navigational buttons on the bottom of the screen."
"Controls are almost completely done via the touchscreen, save for the dedicated shutter button," adds SlashGear. "And, as you would expect, the camera software has tons of knobs under its Advanced Manual Mode, including Exposure, ISO, Focal Length, White Balance, Shutter Speed, and Aperture."
DT lists "surprisingly solid specifications," including "a USB Type-C charging port, 3GB of RAM, a 1,920 x 1,080-pixel resolution (Full HD), and a large 3,000mAh battery." Additional features include a headphone jack, microSD card slot (for up to 128GB of additional storage), MediaTek's Helio X20 deca-core processor, and 13-megapixel front camera.
While DT was impressed with the device's unique design, collection of pre-installed apps, and overall speed (especially considering it is running a 2015 version of Android 6.0 Marshmallow), the biggest disappointment, ironically, came from the camera functionality and "noticeable shutter lag."
"Shots were blurry, and the picture quality was merely 'okay.' The user interface is meant to feel like a traditional camera — there is even a mode dial that lets you swap between different modes, such as automatic and manual. The manual mode is a great option as well as the mode dial, but simply rotating the wheel was a sluggish experience," explains DT.
However, performance may have been hampered by the number of people playing with the phone in the CES booth. We expect to see more controlled evaluations in the near future.
Topics:
Android
,
Android 6.0
,
Android 7.0
,
Bullitt Group
,
Camera
,
CES 2017
,
CMOS
,
Film
,
Full HD
,
Helio X20
,
Kodak
,
Kodak Ektra
,
Kodak Super 8
,
Las Vegas
,
Marshmallow
,
MediaTek
,
microSD
,
Mobile
,
Moto X Style
,
Nokia Lumia
,
Nougat
,
Photo
,
Smartphone
,
Software
,
Storage
,
USB
,
Video