In his CES pre-show keynote presentation, LG Electronics president and chief technology officer Dr. I.P. Park set the stage for an AI-infused vision of tomorrow by questioning if we are "making our lives better, how much better, and better how?" Park called on XPRIZE Foundation founder and executive chairman Peter Diamandis to illustrate what artificial intelligence enables and Landing AI founder and CEO Andrew Ng to explain how AI technologies will evolve. Open-source webOS and 5G were the cornerstone technologies for the product demonstrations by Luxoft and Qualcomm, respectively.
During the keynote in the cavernous Park Theater, so named for its location and not the speaker, Dr. Park interacted with CLOi, a robot representing the AI built into LG products. In fact, LG has branded its AI integration LG ThinQ and installed it across their household appliances and televisions.
For his part, Diamandis described true AI as something that applies constant and multidimensional learning to make life "automagical." This true AI, he said, will transform three major areas: health, education, and retail. Diamandis also highlighted VR applications in these areas as well.
Dr. Ng, who co-founded and led Google Brain and was chief scientist at Baidu, identified three trends that will benefit meaningful deployment: small data, learning at the edge, and lifelong learning. Big data and cloud-based data centers will still play a significant role in monumental tasks, but to optimize and operate a washing machine or robotic vacuum cleaner, three or four uses may be all the device needs to begin to do its job.
Improvements in silicon, he says, makes advanced learning possible locally. That has positive implications for privacy when personal information does not need to be sent to the cloud. Lifelong learning means that devices will always get smarter without having to wait for the next software update.
A partnership with Luxoft highlighted how LG, its products and technology — especially in mobile and displays ­— will play a significant role as autonomous vehicles transform the cabin space of a car into a rolling entertainment center. Luxoft EVP Alwin Bakkenes cited webOS and OpenAPI as key drivers enabling these advances.
LG, #3 behind Apple and Samsung in mobile phone sales in 2018, showed its latest products during the press conference, but time in the keynote was reserved for Qualcomm SVP and general manager of 4G/5G Durga Malladi. He presented Qualcomm's 5G plans as the network begins serious deployment in 2019.
The exponential speed of the new networks and its underlying processor technologies, will enable two simultaneous 4K streams, map display, voice, and all of the connectivity and low-latency interaction an autonomous vehicle could need. That same 5G capacity will also facilitate the AI technology LG is building into its products.
Ultimately, LG characterizes its vision of AI in the same terms as a human relationship: the more you know about and consider the likes and preferences of another person, the better the relationship.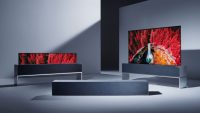 The one product line-up conspicuously absent from the keynote was televisions. However, LG announced several new televisions before the show, all with LG ThinQ technology, including the world's first rollable OLED TV (pictured above).
The full LG keynote presentation and press conference are both available on YouTube.
Related Press Releases:
ThinQ AI and Alpha 9 Gen 2 Processor Delivers Completely New User Experience to 2019 LG TVs, LG, 1/2/19
LG Debuts TV of Tomorrow With World's First Rollable OLED TV, LG, 1/7/19
Topics:
5G
,
Alwin Bakkenes
,
Andrew Ng
,
Apple
,
Artificial Intelligence
,
Autonomous Vehicle
,
Baidu
,
Big Data
,
CES 2019
,
CLOi
,
Cloud
,
Display
,
Durga Malladi
,
Google Brain
,
I.P. Park
,
Landing AI
,
LG Electronics
,
LG ThinQ
,
Luxoft
,
OLED
,
OpenAPI
,
Peter Diamandis
,
Privacy
,
Qualcomm
,
Robot
,
Samsung
,
Television
,
Virtual Reality
,
webOS
,
XPRIZE Foundation