CoinDesk managing editor Toby Bochan, who moderated a CES panel on "How to Keep Control of Your Crypto" noted the industry is in a "crypto winter" in the aftermath of the FTX meltdown. Panelists pinpointed crypto wallets and other self-custody technology to create trust and ease-of-use for wary customers. Bitski head of product Jasmine Xu noted that newbies face unfamiliar phraseology and uncertainty about the security of their crypto assets. Exchanges are intimidating and untrustworthy for many considering crypto. Xu's company stores keys in a digital wallet, she said, to "give consumers the safety they need."
Coinbase director of engineering Chintan Turakhia noted that a centralized exchange does indeed come with "a spectrum of risk." He added that, although Coinbase's exchange "is well regulated and complies with SEC rules," the amount of assets that can be purchased that way is considerably less than what the customer can get with a self-custody solution.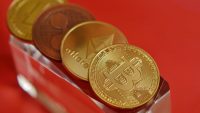 Casa Inc. started with Bitcoin and has now expanded to Ethereum based on strong customer demand, reported Casa chief executive Nick Neuman. "We see the ability to build a valuable experience that goes beyond speculation," he said, noting that eventually "private keys can be used not just for crypto but for your digital ID and encrypted communication."
At Block, Bitcoin wallet lead Max Guise stated that his company is building a multi-signature wallet with three keys. "One will be in a mobile app and another in a purpose-built hardware device," he said, "and the third will be kept in Block's cloud recovery services." With this paradigm, he said, users won't have to find a way to keep track of their seed phrase to access their crypto assets.
Xu believes that "the next phase of digital wallets" will allow users to "explore new things on the blockchain," following or friending people based on wallet content. Turakhia noted that, "the process to onboard onto Web3 should be a one-button press with information on how to buy assets, similar to Amazon's one-click checkout."
"We're excited about scaling up the ecosystem and providing tools for Web3 developers to build new products and apps," he added.
Neuman declared he is "excited about a renewed interest in moving past the speculative casino phase of crypto." "Speculation and trading have been the main use case for crypto," he said. "The tools are now there to build solutions to real world problems."
Topics:
Amazon
,
App
,
Bitcoin
,
Bitski
,
Block
,
Blockchain
,
Casa
,
CES 2023
,
Chintan Turakhia
,
Cloud
,
Coinbase
,
CoinDesk
,
Crypto
,
Crypto Wallet
,
Cryptocurrency
,
Digital ID
,
Encryption
,
Ethereum
,
FTX
,
Jasmine Xu
,
Max Guise
,
Mobile
,
Nick Neuman
,
Privacy
,
SEC
,
Security
,
Toby Bochan
,
Web3