Moderated by Digital Trends editor-in-chief Jeremy Kaplan, a CES panel of three experts discussed the evolution of digital assistants, embedded both in devices and humanoid robots. Front Porch president Kari Olson, who is also chief innovation & technology officer, noted that, "at this point in time, we're all toddlers" when it comes to our understanding of how to interact with digital assistants. Her company has created "possibility rooms" that enable consumers to test out devices embedded with AI assistants.
"People originally said they didn't need [a specific AI-assisted device], but when they're exposed to it they believe it's essential," said Olson. "We have to expose people to this [capability], not just in the kitchen but in everyday life." She noted that it's important for a digital assistant to deliver one meaningful, personalized solution. "If it answers a need, that creates interest, and the consumer is willing to tolerate more [flaws]," she noted.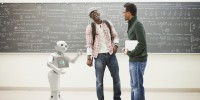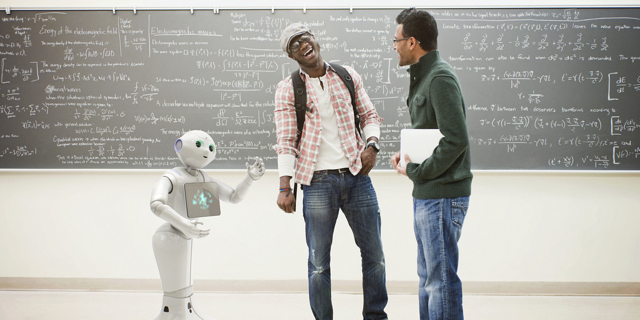 SoftBank Robotics head of business strategy Kass Dawson agreed. His company manufactures a four-foot tall humanoid robot with a childlike voice. "People want to interact with it the way they see in the movies," he said. "It's challenging to meet everyone's expectation." Kaplan noted that people have different expectations from a humanoid robot than they do from appliances powered by digital assistants.
"How do you show people there is an assistant?" he asked.
Mercedes-Benz R&D director of UX, data and AI Andrew Hill noted that the vehicle is "a constrained environment" for a digital assistant. "There's a demand for a voice-based, eye-free good voice interaction," he said. "But having the customer understand the capabilities is still a challenge."
Hollywood has a role to play in educating consumers about the constraints of digital assistants, said Dawson. "In Hollywood, robots can do everything," he said. "We have the responsibility of leveraging the influence of Hollywood to show people how they are really being used, whether it's a TV commercial or movie. We have to continue to push our message, but not allow entertainment to push it beyond reality."
Kaplan asked whether assistants are moving from reactive to proactive. "Will we hear assistants asking if you want to play music or tell you you're low on gas?" he wondered. Hill noted that, "we have to look at the shared context and knowledge of the AI assistant and the driver's knowledge." Dawson said that, "it's tough to embrace proactivity."
"You're already dealing with notifications," he said. "If you're sitting down to dinner and the device blurts something out — we're really far from that. The first time Alexa scares the crap out of people, they unplug it."
Likewise, a robot or device that conveys an emotional response is an iffy proposition. Dawson noted that, "with humanoid robots, having it be even-keeled is a good thing." "We're still at the beginning of being able to talk to your phone or watch," he said. "We have to be appreciative of that and stop demanding perfection."
Privacy must be addressed up-front, said Olson. "People are satisfied when [companies] give clear, transparent answers. They just want to be informed."
Topics:
Alexa
,
Andrew Hill
,
Artificial Intelligence
,
CES 2020
,
CTA
,
Digital Assistants
,
Digital Trends
,
Front Porch
,
Hollywood
,
Jeremy Kaplan
,
Kari Olson
,
Kass Dawson
,
Mercedes-Benz
,
Privacy
,
Robotics
,
Robots
,
Smart Speakers
,
SoftBank Robotics
,
Virtual Assistants
,
Voice Interaction
,
Voice Recognition