Mobility was the focus of a day-long series of panels on Monday, which concluded with a session on the future of mobility, as seen through the eyes of General Motors chief marketing officer Deborah Wahl and Daimler Financial Services president/chief executive Klaus Entenmann. Wahl noted that the definition of mobility has always been "about the freedom to move and experience life on your own terms, via conventional vehicle shopping and ownership." "We're rethinking everything about the customer's experience," she said.
Wahl reported that, two years ago, GM chair/chief executive Mary Barra announced the company's commitment to three goals: zero crashes, zero emissions and zero congestion. "We realigned product development commitments for autonomous vehicles and connected vehicles," said Wahl. GM also introduced Maven, a car-sharing service, and put its OnStar Guardian on iOS and Android apps.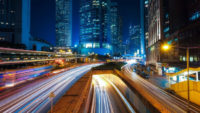 In light of 1.25 million annual deaths via auto accidents, 90 percent caused by human error, GM is "exploring vehicle-to-vehicle and vehicle-to-infrastructure connectedness." Vehicles account for one-fifth of all U.S. carbon emissions. "We're committed to electric vehicles and have a long history of building them," said Wahl.
Flexible, modular battery packs will also help GM architect different electric vehicles, with the goal of at least 20 electric models by 2023. GM has also partnered with LG Chem to mass-generate battery cells in an Ohio plant that will create 1,100 new jobs.
Entenmann noted that an already huge market in mobility will double in the next eight to 10 years to a volume of $30 trillion. His focus was climate change. "Actually it is a climate emergency if you look at Indonesia or Australia," he said. "Mobility transportation of goods is 25 percent of the carbon footprint."
We still need to transport goods, he continued, but "if we don't stop and find a solution, we will have huge problems with flooding and other weather catastrophes as well as pollution in big cities, where 70 percent of the population will live in the not-so-distant future." "The future of autonomous cars helps to reduce congestion and pollution but, still, traffic will increase because more people will go to work in the city."
What we need, he said, is "convenient, available, affordable, efficient and sustainable public transportation."
Going electric with all urban transportation is one step, he said, but "the backbone is a functioning public transportation system based on rapid transit, buses or light train as well as car-sharing, ride hailing and licensed taxis." Municipalities will have to come up with "carrots and sticks" to encourage the populace to use alternative forms of transportation from bike lanes to parking fees.
"We have to make public transportation attractive and convenient," he said. "Residual transportation needs to become valuable and expensive."
Collecting and combining data and then sharing it between public and private transportation systems is key. "We have to act jointly and we have to act now," he said. "The clock is ticking."
Topics:
Android
,
Apple
,
Autonomous Vehicles
,
Battery Packs
,
Car Sharing
,
Carbon Footprint
,
CES 2020
,
Climate Change
,
Connected Vehicles
,
CTA
,
Daimler Financial Services
,
Deborah Wahl
,
Electric Vehicles
,
General Motors
,
iOS
,
Klaus Entenmann
,
LG Chem
,
Mary Barra
,
Maven
,
Mobile
,
Mobility
,
OnStar Guardian
,
Ride Hailing
,
Transportation