Samsung announced its first two Windows 8 smartphones in October with Verizon, but missed the December delivery date on both. Now it appears ready to ship the 3G LTE ATIV S, possibly as soon as January or February, but after talking up the 4G LTE ATIV Odyssey at CES, shoppers have little incentive beyond a thin form factor and slick brushed steel housing to dive in with the ATIV S.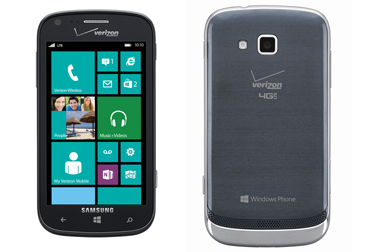 While the Odyssey is compact ― its 4.8-inch form has a 4-inch 800 x 480 Super AMOLED  display ― that combined with a dual-core, a zippy 1.5 GHz Qualcomm processor and 2100 mAh battery will help make this phone a power marathon machine. True 1920 x 1080 HD video capability, 5-megapixel rear camera (1.2-megapixel front), 8GB of onboard storage (expandable to 64GB with a microSD slot) and 1GB of RAM round out the specs.
Designed to appeal to business users, the Odyssey's Global Ready function lets users do calls, texts and emails between 220 countries and has Microsoft Exchange ActiveSync built-in (as well as on-device AES 256-bit encryption).
In a concession to the fact that business users have down time too, Samsung has created some apps exclusive to Odyssey: a diary that allows users to jot notes and store graphics, a photo editing app and a news aggregator among them. These augment the usual suite of Windows Phone 8 OS mobile apps. Both the ATIV S and Odyssey feature the dedicated camera button that has become a standard feature of Windows 8 phones.
Specific release dates and pricing information were not made available on either unit.