Panasonic has taken an interesting route for a Windows 8 Pro tablet with its FZ-G1, another entry in its ruggedized Toughpad series. The company promises the 10.1-inch tablet can endure intense heat and sunlight, pouring rain and freezing conditions. Panasonic sees the FZ-G1 as a secure solution for industries in which a tablet may take a beating, such as food services, military, healthcare, public safety, utilities and more.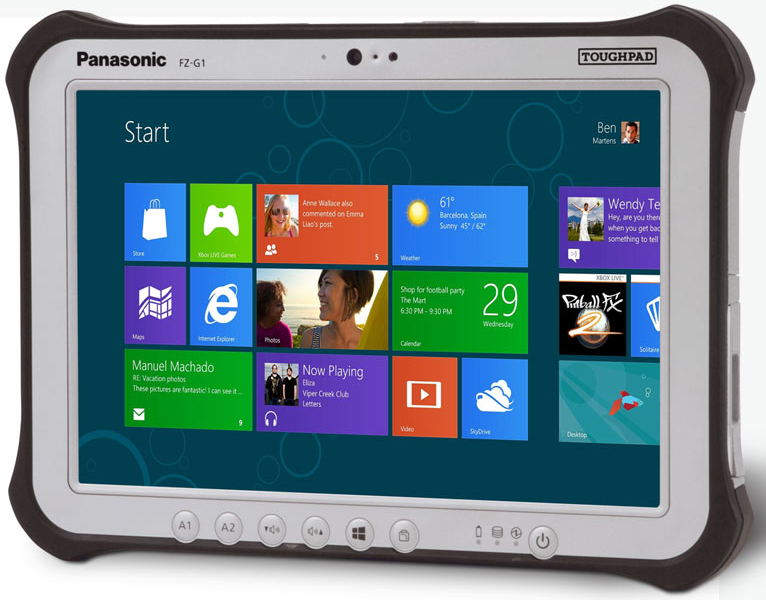 Panasonic bills the Toughpad line as "the enterprise-grade tablets for the real world." The FZ-A1 Android tablet includes hardware encryption, and the 7-inch JT-B1 software encryption, both for enterprise-grade security and management. The new Windows Pro version features data and device security and enterprise-grade tech. The company unveiled the FZ-G1 and JT-B1 at CES.
Additionally, the manufacturer suggests the tablet features a 4-foot drop and all-weather dust and water resistant design that can withstand the various bumps, drops and spills often experienced with extensive mobile use.
The Panasonic Toughpad FZ-G1 touts a 1920 x 1200 display and runs Windows 8 Pro on an Intel Core i5vPro processor. Additional features include 4GB to 8GB of RAM with an optional micro SDXC, USB 3.0, HDMI, optional dedicated GPS, Wi-Fi, Bluetooth and optional 4G LTE or 3G Gobi.
The FZ-G1 will be available in March for $2,899 and the Android JT-B1 will begin shipping in February for $1,199. The original 10-inch Toughpad FZ-A1, which launched last year, is still available for $1,299.