About 10 years ago, a battle for control of the living room experience began to play out between various consumer electronics companies. That battle has since given way to a full-blown war for the consumer involving tech giants like Google, Amazon, Apple, Microsoft, Facebook, Samsung and LG. According to P.J. McNealy, founder of Digital World Research, the key to winning is control of the user interface on connected screens.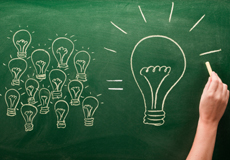 "Companies who control the UI will then dictate how software is accessed, and which software. Making a compelling, fun, friendly UI is considered to be a very special sauce — rarely made and hard to do," writes McNealy for AllThingsD.
An array of technological advances has led to consumers using a variety of mobile devices and screens in the home and on-the-go. The only screen locked to a location is the television. Internet-connected devices have changed the way we access our content and which screens we most commonly use.
"The main question for a consumer will soon be, 'Which size screen will I use in the car? On the train? In rooms in my house?'" writes McNealy. "That answer will be driven by which hardware vendors have aggregated the best services for consumers, coupled with a compelling user interface, frictionless commerce opportunities and social and communications layers built in."
"Apple clearly leads the way, but Amazon and Google have made strides with improved UI," he notes. "Microsoft took a big step forward with the Windows 8 UI, and Facebook has worked on improving its UI on both laptops and mobile."
While the connected consumer focus is presently on phones, tablets, laptops and TV screens, that will soon expand to include connected appliances as well. "Remote management of the oven, inventory management for food in the refrigerator, or remote management of home security or heating systems are going to become more mainstream," suggests McNealy.
"Samsung, given its pole position in many hardware solutions, would have great potential in these expanded connected devices, but it is still early. Hence, the investment in a Silicon Valley lab could prove hugely strategic over the next 10 years."