In San Francisco's newly opened automated, cashier-less store, Standard Market, shoppers who download the app can browse the store's 1,900 square foot space, pick items and leave. The system is automated via cameras on the ceiling that identify the shopper and her items. It's just one of several such stores, including Amazon's Go stores, and in Manhattan, The Drug Store from beverage brand Dirty Lemon. Even China has opened stores without cashiers. The technology behind them is different, but all of them are dealing with theft.
According to The New York Times, Standard Market is the brainchild of startup Standard Cognition, which has raised $11.2 million in venture capital and established relationships with four retail chains around the world. Five of its seven founders came from the Securities and Exchange Commission where they built AI software to detect fraud, and the company's goal is to open 100 stores a day by 2020.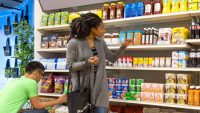 All these stores mix "cameras, sensors and machine learning into grocery stores to replace the checkout line," with the ones in China using "radio frequency identification tags and a self-checkout process that involves scanning a Quick Response code or your face." At Standard Market, the technology relies on the ceiling cameras that "document shoppers' movements, speed, stride length and gaze," and AI to determine what the shopper is buying.
Since Standard Market has an open door (rather than Amazon Go's turnstile), its AI is also attempting to know what the user might be thinking about stealing. "We learn behaviors of what it looks like to leave," said Standard Cognition co-founder/chief operating officer Michael Suswal. "If they're going to steal, their gait is larger, and they're looking at the door."
When the system "decides it has detected potential theft behavior, a store attendant will get a text and walk over for 'a polite conversation'." Before it opened, Standard Market hired 100 actors to shop for four hours, to provide the AI system with more data. The company reported it did not collect biometric information.
Elsewhere, NYT reports that Dirty Lemon, founded in 2015, has 100,000 customers, about half of whom order "at least a case of six beverages each month." Its cashier-less store is based on the same honor system as its home delivery: the customer, in the store, is "expected to text Dirty Lemon to say they have grabbed something … [and] a representative will then text back with a link to enter their credit card information."
"I do think a majority of people would feel very guilty for continuing to steal," said company chief executive Zak Normandin.
The company is now "closing a round of venture capital funding from celebrities and investors, including Winklevoss Capital, Betaworks and the investment fund of the YouTube stars Jake Paul and Cameron Dallas." Normandin said the company plans to open another store in New York and two more in other cities, with VIP lounges. Dirty Lemon has "shifted almost all of its $4 million annual digital advertising budget into its retail stores," betting that his store's demographic, mainly young women, "seek unique in-person experiences."