Chicago-based Baron App Inc. launched Cameo four years ago to enable celebrities to sell messages and personalized videos to fans, for anywhere from $5 to $2,500+. The company recently tripled its 2019 valuation of about $300 million to $1+ billion, with a $100 million funding round led by e.ventures and participation by SoftBank Group's Vision Fund 2, professional skateboarder Tony Hawk, United Talent Agency and Alphabet's venture-capital arm GV. Baron App previously raised $50 million for Cameo in 2019.
The Wall Street Journal notes that celebrities on Cameo range from "octogenarian pop singer Neil Sedaka … [to] Olympic gymnast Gabby Douglas and former White House press secretary Sean Spicer to rock legend Melissa Etheridge and famous animals such as the Cincinnati Zoo & Botanical Garden's hippo Fiona."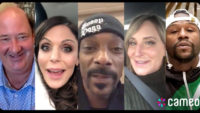 "My D-list celebrity might be your favorite person in the world," said Cameo chief executive and co-founder Steven Galanis. "We're tapping into this. The definition of fame has totally changed."
Cameo co-founder Martin Blencowe, who worked as an NFL agent, and Galanis came up with the idea in 2016 when Blencowe played a message he had former Seattle Seahawks linebacker Cassius Marsh record for a friend who had just become a father – and described the friend's ecstatic reaction.
They were joined by a third co-founder, Galanis' former Duke University classmate, software engineer Devon Townsend. Cameo features more than 40,000 celebrities and "generated $100 million in sales in 2020, a more than fourfold increase from 2019." Celebrities who create Cameo messages get a 75 percent cut of the fee. Galanis reported the company is not yet profitable.
Other platforms that feature user-generated content include Patreon, OnlyFans and newsletter provider Substack, as well as a smaller rival VIDSIG, which specializes in live-video conversations and gives celebrities 80 percent of the sales. Patreon's valuation, with a $90 million funding round in September, is now $1.2+ billion, and Substack raised $65 million. Facebook is also "running public tests" of new product Super, a Cameo-like service.
Loyola University Chicago associate marketing professor Jenna Drenten noted that one challenge is "preventing consumers from abusing" these services, pointing out the 2018 incident when NFL quarterback Brett Favre was "tricked into citing anti-Semitic tropes through coded language for a Cameo purchased by white supremacists."
Galanis said, "Cameo has since taken steps to help celebrities avoid making the same kind of mistakes and added that such incidents are rare."
Upcoming plans include Cameo Calls, "which would enable fans to attend virtual meet-and-greets." The company is also considering a subscription-based model and entering new markets such as Asia and South America. It does not, however, plan to sell ads.
Adweek reports that, at e.ventures, which led the $100 million funding round, partner Jonathan Turner noted that, "Cameo is creating a new category and fundamentally changing the relationship between talent and fans." It notes that, "in the last year, Cameo has developed a B2B operation, connecting talent on the app to small businesses interested in commercial opportunities like marketing, events, employee engagement and sales pitches."
"At scale, we have the capability to be one of the largest ad makers in the world," said Galanis. "It's the fastest growing segment of our business."
Topics:
Alphabet
,
Baron App
,
Brett Favre
,
Cameo
,
Cameo Calls
,
Cincinnati Zoo
,
Devon Townsend
,
Duke University
,
e.ventures
,
Facebook
,
Gabby Douglas
,
Jenna Drenten
,
Jonathan Turner
,
Loyola University Chicago
,
Martin Blencowe
,
Melissa Etheridge
,
Neil Sedaka
,
OnlyFans
,
Patreon
,
Sean Spicer
,
SoftBank Group
,
Steven Galanis
,
Substack
,
Tony Hawk