New York-based cable provider Altice USA, parent company to Optimum and Suddenlink, plans to launch a high-fidelity smart speaker this fall that features audio tech from French company Devialet. The $400 Altice Amplify will come with Alexa built-in for hands-free control of TV functions. The speaker, to be available through Altice's cable stores and Amazon.com, will feature access to streaming apps on the Altice One cable system such as Netflix, Pandora and YouTube. Altice Amplify will work with additional TV systems and streaming devices and support apps including Amazon Music, Apple Music, Audible, iHeartRadio, Spotify, Tidal and TuneIn.
"Altice Amplify is the next step on our mission to provide consumers with powerful new technologies and experiences that brings their homes to life," explained Hakim Boubazine, Altice USA co-president and COO. "Whether it's streaming music, watching a favorite show or movie, or controlling the smart home, Altice Amplify gives consumers ultimate control over their entertainment and smart home needs."
"Altice is planning to price its smart speaker in line with high-end speakers and far above the Amazon Echo, Google Home, or more premium options like Apple's HomePod or the Sonos One," reports The Verge. "The Amplify will cost $399 for Optimum and Suddenlink customers, and it jumps up to a staggering $499 for non-customers. Customers with Altice One will be able to rent the Amplify for $10 per month."
The new device arrives as cable companies are considering options for expanding their services and products while addressing the evolving needs of consumers who are increasingly turning to streaming services and abandoning traditional cable offerings.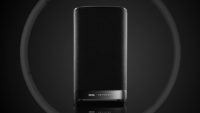 Altice is "looking for noncustomers to buy its device," notes The Wall Street Journal. While "it doesn't plan to be a hardware or equipment company," the company "is looking to make the at-home entertainment experience more seamless." Altice is also "launching a mobile-phone service that it is considering making available to noncustomers, including in regions where Optimum doesn't operate."
While Altice Amplify will compete with existing smart speakers, Boubazine points out that the Altice offering will feature better audio quality than other speakers already on the market. The company's press release specifies some of Devialet's patented technologies featured in the new product:
SPACE sound processing, a unique spatialization technology developed to deliver rich and balanced sound with room-wide diffusion.
Speaker Active Matching (SAM) technology, which perfectly renders the original intent of the content creator with high-fidelity sound reproduction, minimizing latency and distortion so every audio experience, from a movie or a song, comes through in its truest form.
Adaptive Volume Level (AVL), which automatically detects and adjusts volume, eliminating the need to manually adjust volume at key moments, which is particularly important when watching video content like movies.
Altice Amplify tightly packs two long stroke Diamond woofers, designed by Devialet, and a 19v, 7.5 A peak amp into its low-distortion, full-range design, with a "Push-Push" configuration that cancels vibrations and delivers implosive bass from a compact, stand-alone device.
Altice Amplify's six far-field microphones are engineered to pick up sound from across the room, even if the TV is on, with an instant mute button to turn off listening when necessary.
Topics:
Alexa
,
Altice Amplify
,
Altice One
,
Altice USA
,
Amazon
,
Amazon Echo
,
Amazon Music
,
Apple Music
,
Apps
,
Artificial Intelligence
,
Audible
,
Audio
,
Cable TV
,
Devialet
,
Google Home
,
Hakim Boubazine
,
HomePod
,
iHeartRadio
,
Mobile
,
Movies
,
Music
,
Netflix
,
Optimum
,
Pandora
,
Smart Home
,
Smart Speakers
,
Sonos One
,
Spotify
,
Streaming
,
Suddenlink
,
Tidal
,
TuneIn
,
TV Shows
,
Video
,
Voice Assistants
,
YouTube