A video editing app from China's ByteDance is gaining in popularity in the U.S. even as the parent company comes under fire for its viral video app TikTok potentially threatening national security. App-tracking firms including Shanghai-based Diandian show CapCut has more U.S. downloads than TikTok in recent weeks. CapCut lets users quickly create online memes and videos using templates and filters that include music and visual effects. Users say the app helps them achieve professional-looking results that are more likely to go viral on TikTok, as well as Facebook, Meta's Instagram and Google's YouTube.
CapCut, which was launched in the U.S. in 2020, now has more than 200 million global monthly active users, according to The Wall Street Journal, which reports that "as a tool app, it has largely avoided" the regulatory scrutiny over its handling user data to which TikTok has been subjected. Last week it was reported that the Biden administration was demanding ByteDance divest of TikTok.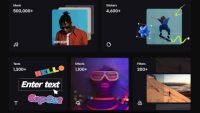 On Friday, The New York Times confirmed that the Department of Justice is investigating ByteDance for alleged surveillance of U.S. citizens — including journalists who cover the tech industry. NYT writes that ByteDance said it has fired the employees involved in the incident, reports of which surfaced in December.
TikTok has said it doesn't share user data with Chinese authorities and ByteDance is proposing a $1.5 billion deal to wall off U.S. user data so it can maintain its ownership status quo.
"CapCut says in its privacy policy that to provide services, it collects content such as photos and videos that users upload, as well as user data including their location, gender and birthday, which is common for video-editing tools," WSJ writes, adding that "CapCut said it stores such data in the U.S. and Singapore, just as TikTok does."
CapCut had more than 400 million global downloads last year, an increase of 43 percent. About 7 percent of the downloads in 2023 have come from the U.S., WSJ writes, citing Sensor Tower. CapCut is just one of several China-developed apps riding the top of the weekly rankings along with TikTok and shopping platforms Temu and Shein.
ByteDance is now looking to further monetize CapCut, which has a popular free version, and is charging for cloud storage and premium features. In December, the company launched a paid version of the native app on which CapCut is based, called Jianying. It plans to roll out an enterprise iteration of CapCut in the U.S.
Topics:
App
,
ByteDance
,
CapCut
,
China
,
Cloud
,
Diandian
,
Editing
,
Editor
,
Enterprise
,
Facebook
,
Google
,
Instagram
,
Jianying
,
Joe Biden
,
Justice Department
,
Meme
,
Meta Platforms
,
National Security
,
Security
,
Sensor Tower
,
Shein
,
Surveillance
,
Temu
,
TikTok
,
Video
,
YouTube