Russia's attack on Ukraine has focused attention on its attempts to censor Big Tech, but the nation's most onerous recent move to control speech came last July, when President Vladimir Putin signed a law requiring foreign tech companies with more than 500,000 monthly visitors from within the Russian Federation to establish a physical presence within the country that would be held responsible for violations of local law. Russian authorities have warned companies including Meta, Apple, Google, TikTok and Twitter that they had until the end of February to comply with what has become known as "the landing law."
Stanford University's Cyber Policy Center fellow and former Google associate general counsel Daphne Keller told The Wall Street Journal the landing "creates potentially a hostage situation for staff."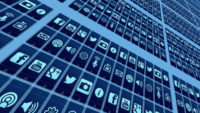 The landing law "makes the companies and their employees more vulnerable to Russia's legal system and the demands of government censors," The New York Times reports, calling the move "part of a Russian pressure campaign against foreign technology companies."
Censorship issues once confined to China, "home to perhaps the world's most restrictive Internet, have spread to Russia, Turkey, Belarus, Myanmar and elsewhere as some of them try to build a more tightly controlled web," NYT explains.
For Russia, Internet censorship is more difficult than it is in China, which "has built a series of filters known as the Great Firewall around its Internet. Russia's Internet is more open, and U.S. tech platforms are widely used in the country. To change that, the Russian government has built new technical methods for blocking content, which it used last year to throttle access to Twitter."
On Friday, Facebook in Russia began experiencing a traffic slowdown courtesy of Roskomnadzor, the nation's agency supervising communications, technology and mass media. NYT reported Facebook "had refused Russian demands that it stop independent fact-checking of posts from four state-owned media organizations," citing Facebook parent Meta Platforms' top policy executive Nick Clegg.
Roskomnadzor had banned characterizations of Russia's actions as an assault, invasion or war, insisting it be called "a special military operation," according to The Moscow Times and others.
NYT reports that in November, Roskomnadzor "listed 13 companies that must comply with the new landing law: Meta, Twitter, TikTok, LikeMe, Pinterest, Viber, Telegram, Discord, Zoom, Apple, Google, Spotify and Twitch." On February 16, the companies were told that they would face penalties — including fines and possible shutdowns or slowdowns — if they did not comply by the end of the month.
As of the deadline, NYT reports that Apple, TikTok and Spotify had complied, with Google having taken some steps as well. Twitch and Telegram have not, NYT says, noting that "Facebook, and Twitter have complied with some parts of the law but not others."
The landing law, NYT reports, "puts the tech companies in a bind, caught between their public support for free expression and privacy and their work in countries with authoritarian leaders. It has forced them to weigh having their services available in Russia against leaving altogether."
Related:
Ukraine War Tests the Power of Tech Giants, The New York Times, 2/28/22
Topics:
Apple
,
Big Tech
,
Censorship
,
China
,
Daphne Keller
,
Discord
,
Facebook
,
Free Speech
,
Google
,
Great Firewall
,
Internet
,
Landing Law
,
LikeMe
,
Meta Platforms
,
Nick Clegg
,
Pinterest
,
Roskomnadzor
,
Russia
,
Spotify
,
Stanford University
,
Telegram
,
TikTok
,
Turkey
,
Twitch
,
Twitter
,
Ukraine
,
Viber
,
Vladimir Putin
,
Zoom