Beamly, a social TV startup known for making second screen apps for iOS, Android and the Web, is now developing a first screen app for the new Android TV platform. The Android TV app will feature a personalized TV channel that will continuously show programming from both live TV channels and online video services. The app will also interact with Beamly's existing mobile apps to offer interactive experiences such as voting during a competitive reality television show.
Beamly's mobile apps are presently a combination of social and network content, and their Android TV app will probably be no different. The new app will play content from a variety of sources in the same fashion as a traditional television channel.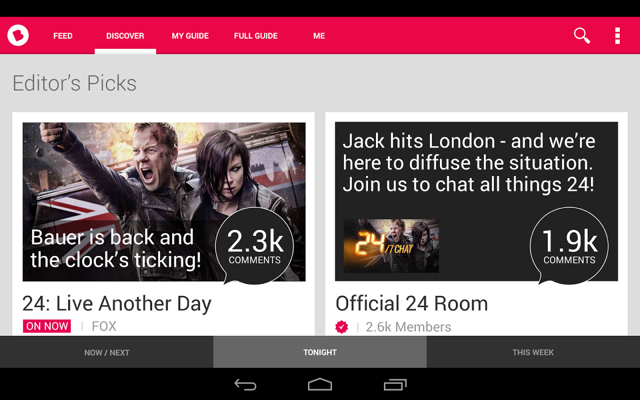 Beamly will select content for this personal TV channel based on viewing habits as well as the individual's Beamly profile. The profile allows users to "follow" TV shows and celebrities, so they can get updates on their TV news feeds.
Some new aspects of the Beamly Android TV app include features that entertain viewers when their favorite shows are not on. For example, the app gives users the ability to see which of their favorite channels are still on commercial breaks.
GigaOM reports, "[Beamly CTO Anthony Rose] is also thinking about offering social and entertainment content when nothing is on TV, effectively turning the big screen into a social wall for the living room."
So far, the app is just a prototype. The company isn't planning on designing its own set-top boxes any time soon. Instead, Beamly will partner with CE manufacturers to offer the app on some of the first hardware for Android TV. The Android TV platform does not have any hardware on the market yet.
However, Beamly will face competition from other companies offering personalized TV guides and channels. Samsung and other manufacturers are using technology from Boxfish to improve the TV guides on their products. Time Warner Cable has also begun selling Fan TV streaming devices, which have personalized recommendations, content from live TV, and access to other subscription streaming services.