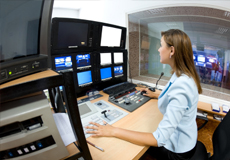 Low-cost software tools are driving the democratization of the post industry, suggests Digital Content Producer, and one result has been the availability of editing and effects services from some new players.
However, some professionals realize there's more that impacts the bottom line than price.
"Rather than solely building a business on Apple's Final Cut Studio or the Adobe Creative Suite," suggests the article, "a number of new producers have found that Autodesk's Smoke for Mac OS X has struck the right balance between cost and performance."
Digital Content Producer profiles several companies that are currently using Smoke to attract and maintain their clients (including Boogie Studios, Glyph Corp. and VODA Studios).
"Autodesk's Smoke for Mac OS X is a relatively new product, but it brings a level of finishing to the Mac platform that has been out-of-reach in the past," indicates the write-up. "Thanks to a heritage of years of Irix and Linux development, the product starts as a seasoned offering, complete with a very high brand appeal among clients. These ingredients have given the early adopters a definite creative and business edge."
"Clients have really responded well to our offering of finishing services," explains Sebastian Dostie of Montreal's Boogie Studios. "It's great to have the audio mix on Pro Tools and video finishing on Smoke under one roof, because everything can get done in the same day at the same facility, including any last minute changes. We love that Smoke is on the Mac platform, because it makes it easy to bring in the offline editor's FCP edit list or to use Photoshop on the same computer as Smoke. Performance and reliability has been great and clients feel very comfortable when they hear that you are using Smoke."
Topics:
Adobe
,
Apple
,
Autodesk
,
Boogie Studios
,
Edit
,
Final Cut
,
Glyph Corp.
,
Mac
,
OS X
,
Post Production
,
Pro Tools
,
Smoke
,
VODA Studios