The American Society of Cinematographers announced its ASC ARRI Educational Center to be built behind its historic Hollywood clubhouse and slated to open in 2019, ASC's centennial as an organization devoted to educating the next generation of cinematographers. ASC president Kees van Oostrum and ARRI Inc. president/chief executive Glenn Kennel symbolically broke ground at the site yesterday, which will house the print/digital publications staff and serve as a hub for its educational activities.
Van Oostrum welcomed attendees to the "joyous event," pointing out that the ASC's founding members "pledged to foster and artistically inspire rising cinematographers."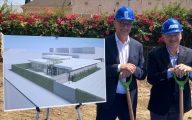 "That mission has made us the society we are today," he said. "Through our members and initiatives, we have aggressively continued that edict … [and] the new ASC ARRI Educational Center symbolizes our commitment to the future and provides an excellent gathering place for the exchange of ideas." Van Oostrum also presented Kennel with a framed historic photograph of ARRI founders August Arnold and Robert Richter, found at the Academy's Margaret Herrick Library.
According to Kennel, ARRI, which celebrated its own centennial last year, has its own emphasis on education, which led the company to begin sponsoring the ASC's International Master Classes two years ago. So far, these classes, in which up-and-coming professional cinematographers deepen their knowledge and craft through master classes with ASC cinematographers, have taken place in Toronto, Beijing and Sao Paulo; two more are scheduled for Colombia and Tokyo. ARRI will continue its sponsorship of these International Master Classes for the next decade, as well as host various Los Angeles-based Master Classes beginning in 2019.
"Sponsoring the ASC educational center seemed like a natural partnership," added Kennel. ASC executive director Eric Rodli said he first approached Kennel about the idea at the ASC Awards in February 2018. After discussions with Kennel and ARRI executive board members Dr. Joerg Pohlman and Franz Kraus, the agreement was inked end of June. "This is an evolution of the relationship," explained Rodli.
In attendance at the event were numerous ASC members, including Board of Governors vice chair Bill Bennett, ASC. "We've been talking about an educational center for about six years and figuring out how to do it," he said. "ARRI's sponsorship will go a long way towards fulfilling our mission to educate the next generation of cinematographers."
Topics:
Academy
,
American Society of Cinematographers
,
ARRI
,
ASC
,
ASC ARRI Educational Center
,
ASC Awards
,
ASC Master Classes
,
August Arnold
,
Bill Bennett
,
Education
,
Eric Rodli
,
Franz Kraus
,
Glenn Kennel
,
Hollywood
,
International Master Classes
,
Joerg Pohlman
,
Kees van Oostrum
,
Margaret Herrick Library
,
Robert Richter
,
Sponsorship