Apple's revamped Beats Music streaming service will debut later this year and will be looking to take on other popular streaming services such as Spotify. Originally, Apple intended to offer Beats Music at $8 per month, instead of the competition's standard $10 per month, by using its leverage in the music industry to secure cheaper rights. The negotiations fell through, and with no plans for a free version of Beats Music, Apple may have to work harder to attract customers.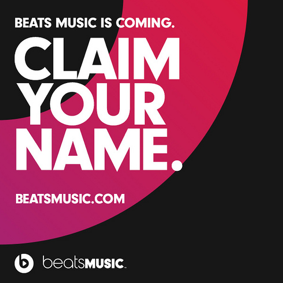 "Almost a year after agreeing to pay $3 billion for Beats, the maker of hip headphones and a streaming music service, Apple is working with Beats engineers and executives to introduce its own subscription streaming service," reports The New York Times. "The company is also planning an enhanced iTunes Radio that may be tailored to listeners in regional markets, and, if Apple gets what it wants, more splashy new albums that will be on iTunes before they are available anywhere else."
Apple revolutionized the music industry with iTunes, but the company has been slow to create an online music streaming solution. "This is one of the few times where Apple is playing catch-up and not necessarily coming from a position of strength," said Toni Sacconaghi, financial analyst for Sanford C. Bernstein.
With music download sales taking a nose-dive, Apple is scrambling to get a chunk of the $1.85 billion of streaming revenue.
The company has enlisted some prominent music industry figures to help them do that. Trent Reznor, the frontman of Nine Inch Nails, is helping design the new Beats Music app, which will include curated playlists. Zane Lowe, a former BBC radio DJ, is known in the industry as a trend-spotter. Jimmy Iovine, one of the original founders of Beats Music, is trying to get exclusive album releases on the new service when it debuts with the new iOS system.
Apple also already has some advantages that will make it easier to launch the new service. Beats will add to a long list of products like apps and software that attract people to Apple hardware. Also, Spotify, the main rival in the streaming business, has a total of 60 million paid subscribers and free listeners. Meanwhile, iTunes already has 800 million customer accounts and not too much to lose.
If Beats makes about the same revenue as Pandora, that $1 billion in revenue will be "less than one half of 1 percent of Apple's annual $183 billion in revenue," according to NYT.
Topics:
Albums
,
App
,
Apple
,
Bands
,
BBC Radio
,
Beats Music
,
Curated Playlists
,
DJ
,
Downloads
,
Headphones
,
iTunes
,
iTunes Radio
,
Jimmy Iovine
,
Licensing
,
Music
,
Music Streaming Service
,
Musicians
,
Nine Inch Nails
,
Playlists
,
Revenue
,
Sanford C. Bernstein
,
Songs
,
Spotify
,
Subscription
,
Toni Sacconaghi
,
Tracks
,
Trent Reznor
,
Zane Lowe