With the Apple Watch release date only weeks away, the reviews for the new wearable continue to roll in. The Watch, Apple's first new product in nearly five years, is already being coined by many as the best smartwatch on the market. While reviews have been largely positive, there also seems to be a steep learning curve. Some early testers have said it takes time to get familiar with all of the Watch's functions and features, but that eventually it becomes as simple to use as any of Apple's other devices. 
"The Apple watch is many things. It's a timepiece, a fitness tracker, and a compact billboard for incoming messages, mail, and phone calls. If you have the right credit card and you're at the right kind of shop, you can pay for things by waving your wrist with it. It runs very, very tiny apps and games," Yahoo reports.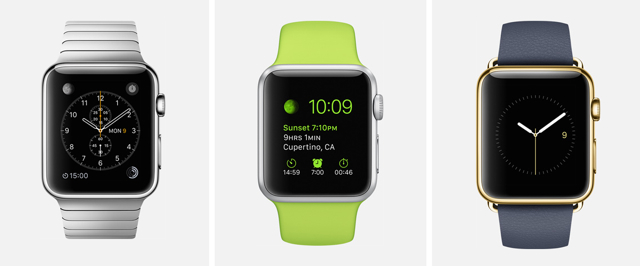 According to Farhad Manjoo of The New York Times, "the Watch's software requires a learning curve that may deter some people… It is designed for people who are inundated with notifications coming in through their phones, and for those who care to think about, and want to try to manage, the way the digital world intrude on their lives."
"It made me more present. I'm less likely to absent-mindedly reach for my phone, or feel compelled to leave it on the table during supper," says The Wall Street Journal's Geoffrey A. Fowler of the Watch.
One way that the Watch is able to help people be "more present" is through features like the "taptic engine," which transmits different physical vibrations to a person's wrist alerting them of incoming notifications. Different notifications, such as email, text or calls, diffuse different vibrations.
"Alerts and information appear only when you need them, and then disappear on their- no need to dismiss them," Fowler reports.
Much like the iPhone, the Watch's voice recognition software is powered by Siri. The screen however, does not work like the phone. For example, in order to zoom, wearers have to scroll a knob located on the side of the Watch versus the two finger motion that people might be accustomed to doing on the iPhone. The message board is limited to default responses, emojis and a draw or tap function that only works between two Watch devices.
Manjoo writes that the Watch works perfectly well to make mobile payments for cabs and at the grocery store, and seamlessly check into places such as hotels and airports. To make payments users can simply tap twice on the Watch's side and activate Apple Pay.
The Watch's aesthetics seem to work well for reviewers thus far. With the Watch, it is clear that "Apple has put in as much effort into the style of this device as the electronics," Yahoo notes.
Related News:
The Apple Watch's Earliest Game Makers Want Five Seconds of Your Time, Bloomberg, 4/10/15
Apple Watch Expected to Increase Foot Traffic in Apple Stores, ETCentric, 4/9/15
The Invisible Design Behind the Apple Watch's Many Faces, Wired, 4/8/15
Ahead of Watch Release, Apple to Allow Customers to Try It On, The New York Times, 4/9/15
Apple Watch Demo Videos Put Potential Buyers Behind The Wheel, TechCrunch, 4/3/15
Apple Watch Review: A Day in the Life, The Verge, 4/8/15