Audio technology company DTS will join Dolby and Barco in bringing object-based immersive sound systems to cinemas. The company already offers its DTS:X system for home theaters, but now DTS is delivering its tech to commercial theaters with a lower entry cost than rival systems. According to The Hollywood Reporter, the DTS:X system is lower in cost since theaters can start with just a few additional speakers and a supported server. About 350 DTS:X system installations are scheduled for this summer in Asia.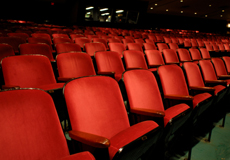 "The company first introduced DTS:X — the successor to DTS-HD — at January's CES for the home market, reporting support from a wide range of consumer electronics makers as well as speaker manufacturers," explains The Hollywood Reporter. "It plans to use the upcoming CinemaCon confab in Las Vegas to begin its push to bring DTS:X to movie theaters."
"We can accommodate smaller rooms," said Kevin Doohan, DTS chief marketing officer. "Our object-base spec will have an element of height in the mix, which can be done either with speakers in the ceiling or high up." Dolby's Atmos and Barco's Auro immersive sound systems have only been installed in premium theaters.
The Society of Motion Picture and Television Engineers has been working to develop a single standard format for immersive sound, so that the sound mix for movies can play in any theater with Dolby, Barco, or DTS. Currently, DTS:X systems can only play sound mixes in a MDA (multi-dimensional audio) format, but the company said that it would make MDA available to use license fee-free, so that it can be adapted for the other sound systems.
Meanwhile, DTS:X has already been installed at The Brenden Theater at Las Vegas' Palm Hotel. The company is working with GDC Technology to continue placing DTS:X is Asian theaters this year. To target North American cinemas, DTS plans to demonstrate the technology at this year's CinemaCon in April.
Topics:
Asia
,
Atmos
,
Audio
,
Auro
,
Barco
,
Brenden Theater
,
CES
,
Cinema
,
CinemaCon
,
Dolby
,
DTS
,
DTS:X
,
GDC Technology
,
Immersive Sound
,
Kevin Doohan
,
MDA
,
Movie Theater
,
Multi-Dimensional Audio
,
North America
,
Object-Based Audio
,
SMPTE
,
Sound System