Apple abruptly reversed a decision made a year ago to remove iPhone apps that use one of two technologies to allow parents to control their children's use of Apple devices. The company revealed its move to allow parental controls in a short blog post on its website. The reversal comes on the heels of news that the Department of Justice and the Federal Trade Commission are scrutinizing Silicon Valley tech companies for antitrust behavior. App developers filed a lawsuit in California accusing Apple of monopolizing app distribution.
The New York Times reports that the technologies are MDM (mobile device management) and virtual private networks (VPN), the first of which allows parents to take control of a child's phone and the second which parents can use to block specific apps.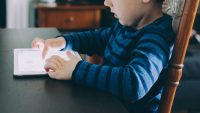 In the blog post, Apple said that the apps could use these technologies as long as they didn't "sell, use or disclose to third parties any data for any purpose" and stated that in their privacy policies. An Apple spokeswoman didn't say, however, "whether Apple had found evidence of the apps doing so" and the app developers deny it.
At its developers' conference last year, Apple debuted "a feature to help people limit the time that they and their children spend on the iPhone," and at the same time "quietly began removing or restricting apps in its App Store that offered similar services."
One such app, Freedom, was removed from iPhones in August for using a VPN, and chief executive Fred Stutzman noted that the move cost his company more than $1 million. "My reaction is: Why this last year of pain? And we end up exactly in the same place," he said.
Encouraged by former Apple executive Tony Fadell, 17 impacted app developers "proposed a technological solution, called an application programming interface, or API, that they said would enable them to continue to help parents limit their children's screen time without invading their privacy."
Meanwhile, The Wall Street Journal reports that app developers filed a lawsuit in California this week saying that the company, which has charged them a 30 percent commission over the last 11 years, monopolizes the distribution of apps. Their suit also claims that Apple "restricts pricing." The developers' attorney Steve Berman, a managing partner at Hagens Berman, stated, "Apple blatantly abuses its market power to the detriment of developers, who are forced to use the only platform available to them to sell their iOS app."
Although Google also gets a 30 percent commission for apps in its Google Play Store, "Android users are able to buy apps" outside of the company's store. WSJ notes that "the lawsuit follows the Supreme Court's decision last month allowing consumers to sue Apple for requiring users to buy apps only from the App Store."
Topics:
Android
,
Antitrust
,
API
,
Apple
,
Apple App Store
,
Apps
,
Department of Justice
,
Developers
,
Federal Trade Commission
,
Fred Stutzman
,
Freedom
,
Google
,
Google Play Store
,
Hagens Berman
,
iOS
,
iPhone
,
Lawsuit
,
MDM
,
Monopoly
,
Parental Controls
,
Privacy
,
Steve Berman
,
Supreme Court
,
Tony Fadell
,
VPN