Apple is planning to allow app sideloading in response to the European Union's Digital Markets Act, set to take effect in 2024. The move reverses long-held policies that were a source of ire to many Apple developers as well as global regulators. It is believed the new approach could spillover to other regions where lawmakers are at various stages of reining in Big Tech, with companies including Google and Meta Platforms also in the crosshairs. The news sent shares up among companies that offer dating apps, including Match Group and Bumble. Spotify also got a bump.
The market uptick is an indicator investors see relief in sight from the brunt of Apple's high proprietary commission fees, which go as high as 30 percent. The Digital Markets Act (DMA) "takes effect in the coming months, but companies aren't required to comply with all of the rules until 2024," says Bloomberg, noting "government officials in the U.S. and other countries have pushed for similar laws but haven't gotten as far as the EU."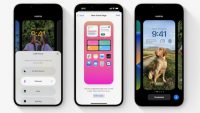 The DMA requires tech firms to permit third-party app developers to install their wares and easily change default settings. The rules also mandate messaging services interoperate across platforms and that outside developers get equal access to core features within messaging apps and services.
The DMA applies to companies "with market valuations of at least €75 billion ($80 billion) and a minimum of 45 million monthly users within the EU," per Bloomberg. Dating app firm Match Group has sued Apple for antitrust in India, while "Fortnite" parent Epic Games brought the same action against the iOS-maker in the U.S. A key component of Epic's suit is Apple's refusal to allow the installation of third-party payment systems that would bypass Cupertino entirely.
"Apple hasn't made a final decision on whether to comply with a component of the Digital Markets Act that allows developers to install third-party payment systems within their apps," according to Bloomberg, which explains that "as part of an agreement with the Japanese government, the company already allows some media and cloud apps to point users to the web to complete transactions, but the Digital Markets Act likely wants Apple and other technology giants to go further."
In an apparent effort to meet regulators part way, Apple is also reportedly "working to open more of its private application programming interfaces, or APIs, to third-party apps," Bloomberg says.
Overall, Apple's recent initiatives are a dramatic change from the company's "long-standing policy that third-party app stores and sideloading from outside the App Store would pose security and privacy risks for iPhone owners," Ars Technica writes, noting that as it opens iOS beyond the Apple ecosystem it is simultaneously "exploring ways to limit users' exposure to potentially malicious apps."
Related:
Apple Explores Allowing iPhone, iPad Users to Download Apps Outside Its Store, The Wall Street Journal, 12/16/22
Topics:
Antitrust
,
API
,
App
,
App Store
,
Apple
,
Big Tech
,
Bumble
,
Developer
,
Digital Markets Act
,
DMA
,
Epic Games
,
European Union
,
Fees
,
Fortnite
,
Google
,
India
,
iOS
,
iPhone
,
Japan
,
Law
,
Match Group
,
Messaging
,
Meta Platforms
,
Payment
,
Privacy
,
Regulation
,
Security
,
Sideloading
,
Spotify
,
Third Party