Shanghai Zhizhen Network Technology Company was recently granted a Chinese patent for a voice assistant similar to Apple's Siri. It has also filed a patent-infringement lawsuit against Apple, with about 10 billion yuan ($1.43 billion) in potential damages. The suit stated that Apple products violate a virtual assistant patent with technical architecture similar to Siri's that is owned by a Chinese artificial intelligence company. Apple responded that Siri's features are different from those described in the Chinese patent.
The Wall Street Journal reports that, "as part of the suit, Shanghai Zhizhen, also known as Xiao-i, asked Apple to stop sales, production and the use of products flouting the patent — a category that includes virtually all the U.S. company's devices." Apple noted that Siri doesn't include features related to games and instant messaging found in the Chinese company's patent.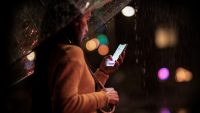 Siri was introduced as an iPhone feature in 2011, and Shanghai Zhizhen sued Apple in 2012. According to Zhong Lun Law Firm litigation partner Fang Jianwei, "if Shanghai Zhizhen applies for a preliminary injunction, the court could decide to bar Apple from selling products loaded with Siri in China for the duration of the trial." He added, however, that these injunctions are rarely granted.
Fang stated that, "the patent-infringement suit isn't a surefire win for Shanghai Zhizhen." Although the Supreme Court ruled that the Chinese patent is valid, "the current court could still find that the underlying technology behind Siri and Shanghai Zhizhen's patent is different enough to rule in favor of Apple."
Apple's second biggest market, after the U.S., is China, although Huawei is now "the world's top seller of smartphones." Apple reported that "quarterly sales in China rose slightly to $9.33 billion, accounting for roughly 16 percent of its overall revenue for the three months ended June 27."
Apple has previously fought three intellectual property lawsuits in China since 2012 when it agreed to pay $60 million to "settle a trademark dispute with the mainland Chinese unit of another company, Proview International Holdings, which claimed ownership of the 'iPad' name in China." The company lost another trademark dispute with Xintong Tiandi Technology that made accesories under the label 'IPHONE'.
Topics:
Apple
,
Artificial Intelligence
,
Fang Jianwei
,
Games
,
Huawei
,
Injunction
,
Instant Messaging
,
Intellectual Property
,
iPad
,
iPhone
,
Lawsuit
,
Patent Infringement
,
Patents
,
Proview International Holdings
,
Shanghai Zhizhen Network Technology
,
Siri
,
Supreme Court
,
Voice Assistants
,
Xiao-i
,
Xintong Tiandi Technology
,
Zhong Lun Law Firm