In an effort to help consumers better understand the benefits of Apple HomeKit products, Apple has installed interactive smart-home displays in 46 of its retail locations worldwide. Apple customers can use the Home mobile app via an Apple Watch, iPhone or iPad to perform functions such as turning on Philips Hue light bulbs and controlling Hunter ceiling fan speeds. Apple's Home app allows users to control HomeKit-enabled smart devices from a single location (or even collectively with a single command) by tapping the screen or interacting with virtual assistant Siri.
Apple hopes to get more consumers enthusiastic about smart home products by introducing the HomeKit experiences to its retail stores.
"In the U.S., people can check out the experience at Apple's Union Square store in San Francisco, its World Trade Center and Williamsburg stores in New York and 28 other stores throughout the country," reports TechCrunch. "A non-interactive HomeKit experience will be offered at all of Apple's other stores — the ones without 'The Avenue' window displays."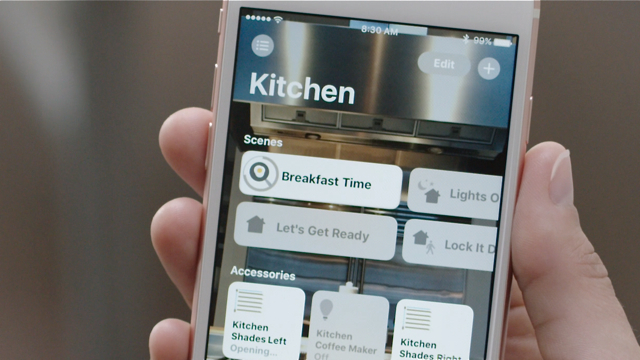 The company is expected to launch its HomePod smart speaker (below) in December, which will compete with Amazon Echo and Google Home devices, the current leaders in this segment. Apple is already marketing the HomePod as a hub for HomeKit-enabled devices, although it may be a bit late to the game.
While "Siri remains the most popular virtual assistant with 41.4 million monthly active users in the U.S., according to a new report from measurement firm Verto Analytics," notes TechCrunch, "it has seen a 15 percent decline since last year" and engagement has "dropped by nearly half during this period."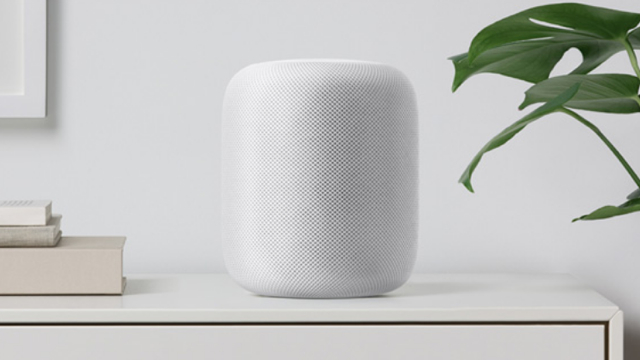 Usage of Amazon Alexa, on the other hand, has skyrocketed 325 percent, and the report also notes increased usage of Microsoft's Cortana.
According to eMarketer, Amazon's Echo and Echo Dot devices are projected to claim a 70.6 percent share of the U.S. market this year, while Google Home is expected to capture 23.8 percent. Interestingly, the research firm also predicts the number of users in the U.S. will double this year to 35.6 million. Microsoft, Samsung and Alibaba are among those also introducing voice-controlled speakers.
A recent survey from If This Then That (IFTTT) indicated that most consumers, for now anyway, are more likely to use their smart speakers for everyday mundane tasks such as checking the news and setting alarms than they are to execute more technically complex tasks.
"An overwhelming majority of respondents (91.4 percent) stated they owned some other kind of connected device, such as smart lighting, wearables, and smart thermostats," Android Authority explains. "Even so, voice assistants were primarily used for streaming music, setting timers, and getting the weather forecast."
"In some way, this tells us that people are more likely to use their voice assistants as a way to do stuff they already did prior to purchasing the assistants …. They are not out to build a smart home and have everything in their home talk to each other."
Topics:
Alexa
,
Alibaba
,
Amazon Echo
,
Apple
,
Apple Store
,
Apple Watch
,
Cortana
,
Echo Dot
,
eMarketer
,
Google Assistant
,
Google Home
,
HomeKit
,
HomePod
,
Hunter
,
IFTTT
,
Internet of Things
,
iPad
,
iPhone
,
Microsoft
,
New York
,
Philips Hue
,
Samsung
,
San Francisco
,
Siri
,
Smart Home
,
Smart Speaker
,
Verto Analytics
,
Virtual Assistant