Apple's revenue climbed 1.8 percent to $64.04 billion, due to sales in wearables and services such as apps, mobile payments and streaming-music subscriptions. Meanwhile, iPhone sales fell 9.2 percent and profit fell 3 percent to $13.69 billion. The company's operating expenses have also risen 9 percent as it embraced facial recognition for the new iPhone and increased R&D spending. In advance of the Apple TV+ debut on November 1, Apple held a gala event for "The Morning Show" at New York's Lincoln Center.
The Wall Street Journal reports that the slumping profit "marked the first time since chief executive Tim Cook took over in 2011 that Apple's profit has declined in all four quarters of a fiscal year."
In reaction to smartphone saturation, Apple launched a strategy to double-down on software, services and accessories. It reported that, "sales of its services business rose 18 percent in the latest quarter, while sales in its wearables business soared 54 percent on the popularity of its AirPods wireless earbuds." Even so, "services and wearables together brought in $19 billion in quarterly revenue, less than 60 percent of the iPhone."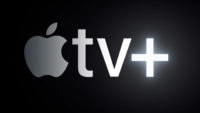 The company "expects sales between $85.5 billion and $89.5 billion for the [current] period, an improvement on the $84.31 billion it posted in the current quarter last year." "The iPhone still accounts for more than half of Apple's revenue," adds WSJ.
Company shares have lifted, "partly in anticipation that the company will release its first 5G iPhone in September 2020." The last year has been "one of Apple's rougher stretches," with "the company slashing guidance for the first time in more than a decade because of weak iPhone sales and a downturn in its China business" and the departure of two key executives, design chief Jony Ive and retail chief Angela Ahrendts.
The New York Times reports that, on October 28, Apple "made its formal entry into show business" with a lavish premiere for one of its original programs, "The Morning Show," starring Reese Witherspoon and Jennifer Aniston. Apple TV+, which has been in development for two years, launches on November 1, priced at $5 per month or free for a year "with the purchase of a new Apple device."
With Hollywood veterans Zack Van Amburg and Jamie Erlicht at the helm, Apple TV+ has inked deals with an A-list that includes Oprah Winfrey, Steven Spielberg, J.J. Abrams and M. Night Shyamalan. The company paid about $240 million for a two-season, 20-episode deal for "The Morning Show," "which anchors the company's first slate of streaming programs and films."
Early reviews, says NYT "were decidedly mixed." It adds that, "within a year, Apple TV+ could have as much content as longtime cable networks like FX or Showtime" and predicts that "the next few months will suggest whether or not the executives in Cupertino, California, have the stomach for the unpredictable entertainment business."
Topics:
5G
,
AirPods
,
Angela Ahrendts
,
App
,
Apple
,
Apple TV Plus
,
FX
,
iPhone
,
J.J. Abrams
,
Jamie Erlicht
,
Jennifer Aniston
,
Jony Ive
,
M. Night Shyamalan
,
Mobile Payment
,
Movie
,
Music
,
Oprah Winfrey
,
Reese Witherspoon
,
Showtime
,
Steven Spielberg
,
Streaming
,
Subscription
,
The Morning Show
,
Tim Cook
,
TV Show
,
Video
,
Wearable
,
Zack Van Amburg