Amazon, Alphabet's Wing and Uber Technologies are conducting government-approved trials of drones to deliver packages. Wing is in Christiansburg, Virginia and Uber will begin tests in San Diego before the end of 2019. United Parcel Service also gained FAA approval to create a fleet of drones to deliver health supplies and, ultimately, consumer packages. The FAA predicts that drones for commercial purposes will reach 2.7 million by 2020. Meanwhile, the Department of the Interior is grounding more than 800 drones that were manufactured in China, citing national security concerns.
The Wall Street Journal reports that Amazon's design, which has gone through about 50,000 iterations, is now hexagonal, to allow "the drone to switch between a vertical helicopter-like mode and a horizontal airplane mode" as well as offer better stabilization in gusty winds. Wing's drone is similar to a small plane with two wings that extend more than three feet, and 14 propellers.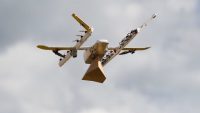 The company has conducted 80,000+ tests and is working with Walgreens Boots Alliance and FedEx to deliver "small packages, food, beverages and medicine items." Uber is using a modified AR200 by AirRobot, which flies slower than the others and offers a more limited range.
Each company's drone takes off differently; Amazon's Prime Air departs fulfillment centers with "a package in tow," while Wing's "is designed to hover in the air when it picks up a package from a store, sending a tether down where a worker can attach a package."
Uber said, "restaurant workers will clip a food package onto [its] drone from the ground at the start of the delivery." Amazon estimates its trips will take 30 minutes or less; Wing aims to deliver in less than 10 minutes for a 12-mile range; and Uber trips average seven minutes for a three-mile range.
All companies have different strategies for unloading packages, and all have built-in safeguards. But experts say that "no standard exists on how drones will identify and communicate with each other while in the air, making drone delivery by multiple companies in the same area not currently possible."
The Verge reports that the U.S. Department of the Interior, "which oversees federal land and resource management … [is] grounding its entire aerial drone fleet of more than 800 UAVs out of concern for Chinese spying and drone-aided cyberattacks." Secretary of the Interior David Bernhardt ordered that the drones, all of which are either manufactured in China or use Chinese parts, will "remain grounded until the department completes a review of the security risks they may pose."
The one loophole is if the drones "are currently being utilized for emergency purposes, such as fighting wildfires, search and rescue, and dealing with natural disasters that may threaten life or property."
The fear is that the drones might transmit data "of sensitive U.S. infrastructure that may be the subject of future cyberattacks." U.S. lawmakers also introduced a bill that "would prevent federal agencies from purchasing drones from China."
Engadget reports that Chinese drone manufacturer DJI now offers a $399 foldable Mavic Mini that weighs 249 grams and has a maximum range of about 2.5 miles with 30 minutes of flight time.