According to sources, Apple is far along in talks to purchase Intel's smartphone-modem chip business, a deal valued at $1+ billion. If successfully concluded, the deal would give Apple the means to produce its own chips and Intel's expertise in 5G modem chips. Apple has long sought to be able to provide its own chips, hiring engineers, including some from Intel, in order to differentiate its phones in a market that has plateaued. Intel would like to sell its smartphone business that has been losing about $1 billion each year.
The Wall Street Journal reports that, although Intel would abandon the smartphone market, it still "plans to continue to work on 5G technology for other connected devices." The two companies have been talking, on and off, for about a year, but conversation "broke down around the time Apple reached a multiyear supply agreement for modems with Intel rival Qualcomm."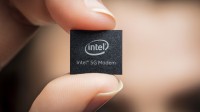 That deal came as a resolution of a two-year legal battle over royalties. After the settlement, Intel stated it "was abandoning development of modems for 5G smartphones — an effort it had spent a decade and billions of dollars on — citing no clear path to profitability."
Intel "received expressions of interest" from other companies for its modem chip business, but talks between Apple, perceived as the most logical buyer, resumed last summer, around the time Intel chief executive Brian Krzanich resigned. Krzanich was a big supporter of both 5G and the company's modem business, which began in 2011 when Intel bought Infineon Technologies for $1.4 billion.
After Bob Swan took over as Intel's chief executive, "analysts said the odds of a deal rose because his focus on cleaning up Intel would require addressing the losses in the modem business."
WSJ notes, "Intel is the latest Apple supplier to exit a business after the iPhone maker moved to develop components in-house," pointing to Apple's deal in late 2018 to acquire Dialog Semiconductor's battery-management chip expertise, 300 engineers and facilities for $600 million.
In the past, Apple preferred to purchase "about 15 to 20 small companies annually" rather than make bigger deals, but has become more open to that strategy as the iPhone business has slowed down. The purchase of Beats Electronics for $3 billion in 2014 is its largest deal yet.