This month, Apple will officially launch Apple Card, a credit card for iPhone users, according to chief executive Tim Cook. The credit card, which will be situated in Apple's Wallet app, allows contactless payments and includes no fees, lower interest and cash rewards. According to the Silicon Valley company, Apple Pay has 70 percent "retail acceptance" in the U.S. and 90 percent in Australia. It can be used wherever Apple Pay is available and is expected to be in 40 countries by the end of the year.
Digital Trends reports, "some Apple fans will get the chance to try out the Apple Card beginning Tuesday, August 6." Those selected for the "preview rollout" will need a device on iOS 12.4; users on the developer build or public beta of iOS 13 need to downgrade back to iOS 12.4.
To register for the card, the user must enter her date of birth, address, income level and last four digits of her Social Security number as well as submit to a TransUnion credit check; the information will be sent to Goldman Sachs, which makes the final decision on card approvals. Apple said the process will take "less than a minute," with the application being "processed in real time."
Goldman Sachs is the issuing bank for the Apple Card, but "Apple is also partnering with Mastercard to support Apple Card's global payment network." Once approved, the user doesn't need a physical card, but can "use the card within minutes … wherever Apple Pay is accepted."
Where Apple Pay isn't accepted, the user will have a titanium credit card with his name etched on it but without card number, CVV security code, expiration date and signature. The Wallet app is the hub for information on what was purchased, how much is owed and when it is due. Apple Card customer service is available via the Messages app.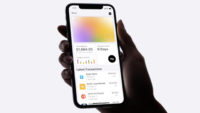 The Apple Card also offers Daily Cash, a feature that adds real cash to the Apple Cash card: "Every time you pay with Apple Card on your iPhone or Apple Watch, you'll get 2 percent of the purchase amount," with an unlimited number of daily purchases. Any purchases made with Apple "gives you 3 percent Daily Cash — like buying an iPhone or paying your iCloud storage bill — and if you use the physical card, you get 1 percent Daily Cash."
According to Apple, the credit card "will have a variable interest rate ranging from 13.24 percent to 24.24 percent 'based on creditworthiness' as of March 2019." But there will be "no late fees, no annual fees, no international fees, or over-limit fees [and] … no penalty interest rates if you miss a payment," although the latter will "result in additional interest accumulating" toward the user's balance.
Security for the Apple Card, said Apple, is based on a unique number stored on the device, with "every payment us[ing] a one-time dynamic code that helps keep the card protected." Touch ID and Face ID will authenticate each payment, and "Goldman Sachs, the issuing bank, will also never share or sell your data to third parties for marketing or advertising."
Topics:
Apple
,
Apple Card
,
Apple Pay
,
Apple Wallet
,
Apple Watch
,
Apps
,
Australia
,
Credit Card
,
Daily Cash
,
Face ID
,
Finance
,
Goldman Sachs
,
iCloud
,
iOS 12.4
,
iOS 13
,
iPhone
,
Mastercard
,
Messages
,
Personal Data
,
Retail
,
Security
,
Silicon Valley
,
Tim Cook
,
Touch ID
,
TransUnion
,
United States
,
Wallet