Apple and Google unveiled jointly developed contact tracing technology to help the government track the spread of COVID-19. The app notifies a user if she has been exposed to someone who tested positive for the coronavirus. The technology's protocol relies on the phone's Bluetooth signal to identify those who have been near an infected person. So far, North Dakota, Alabama and South Carolina in the U.S. and 22 countries have asked for and received access to the technology. The app was previously released in beta.
The Wall Street Journal reports that Apple and Google are only providing the technology, allowing developers to create their own "exposure-notification apps." When two devices using the protocol "come near each other, they exchange 'keys,' or digital codes, through a Bluetooth signal."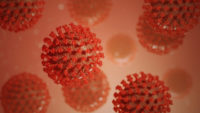 If an app user tests positive for the coronavirus, he or she can "choose to share his or her diagnosis with public-health officials through the app, then upload the keys that his or her app has sent recently … [which then] will notify users who were exposed." This enables public health authorities to "track contact between strangers" that they otherwise wouldn't be able to.
The Apple/Google protocol prohibits collection of a device's location history, leading some public health agencies to build their own apps that can use GPS data. After feedback from the Centers for Disease Control and Prevention, Apple and Google chose to "let health agencies customize a number of features, including what degree of proximity and length of exposure constitutes an exposure event."
Reuters reports that, among the countries moving forward with the Apple/Google protocol are Austria, Germany and Switzerland. Under Apple and Google's rules, "authorities would have to stop requiring phone numbers from users," which led some governments to develop their own apps. Australia and the U.K. are among those that have "sought to develop their own technology … [and] are experiencing glitches." Australia is in talks with Apple/Google about "enhancing its COVIDSafe app."
Elsewhere WSJ reports that, according to Covid Watch software engineer/spokesperson Jesse Colligan, "56 percent of the population needs to download and use the [contact tracing] app for it to be effective." "You're talking about achieving Instagram-like scale in a matter of weeks or months, which is extremely difficult to do unless you have an extremely compelling value proposition and people are hearing about it," he said.
So far, only 4 .4 percent of North Dakota residents have downloaded the Care19 app, and 2 percent have done so in South Dakota. To encourage downloads, developer ProudCrowd gamified the app's map section.
Other apps are trying other strategies. The Healthy Together app is using "colors to indicate risk levels in the vicinity, adjusted to reflect users' relative vulnerability to the virus." CoEpi is "considering a more customized approach to exposure notification alerts, where a user could choose to be notified only if they were around someone who tested positive for the coronavirus for longer than 15 minutes, for example."
Topics:
App
,
Apple
,
Australia
,
Austria
,
Bluetooth
,
CDC
,
CoEpi
,
Contact Tracing
,
Coronavirus
,
Covid Watch
,
COVID-19
,
COVIDSafe
,
Developer
,
Gamification
,
Germany
,
Google
,
Government
,
GPS
,
Healthy Together
,
Instagram
,
Jesse Colligan
,
Mobile
,
ProudCrowd
,
Public Health
,
Smartphone
,
Switzerland
,
United Kingdom