Thirteen app developers including Basecamp, Epic, Match Group and Spotify formed the nonprofit Coalition for App Fairness to oppose some of the policies of Apple's App Store and the Google Play Store. Coalition spokeswoman Sarah Maxwell said the impetus for forming the group was to recognize "we're not alone in this, and maybe what we should do is advocate on behalf of everybody." Apple and Google have been scrutinized by regulators in the U.S. and the European Union; the Justice Department is expected to file an antitrust suit against Google shortly.
The New York Times reports that, "for years, smaller rivals were loath to speak up against the mammoth companies for fear of retaliation … but the growing backlash has emboldened them to take action." More specifically, the smaller companies oppose "Apple's and Google's tight grip on their app stores and the fortunes of the apps in them." Both companies, which "control virtually all of the world's smartphones through their software and the distribution of apps via their stores, … charge a 30 percent fee for payments made inside apps in their systems."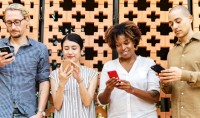 The Coalition's 10 principles for fairer app practices is headed by the one stating, "that developers should not be forced to exclusively use the payments systems of the app store publishers." Other principles include "a more transparent process for getting apps approved and the right to communicate directly with their users."
"Apple leverages its platform to give its own services an unfair advantage over competitors," said Tile vice president and general counsel Kirsten Daru, whose company is in the Coalition. "That's bad for consumers, competition and innovation." She testified to lawmakers that, "Apple had begun making the permissions around Tile's app more difficult for people to use after it developed a competing feature."
Tile, Epic, Spotify and Match Group executives formed the coalition out of discussions among them, some of which "took place after Apple and Google booted "Fortnite" from their app stores last month for violating their payment rules." Coalition members said its group "could spur more companies to publicly voice longstanding complaints." Blockchain.com chief executive Peter Smith, whose app has been blocked many times by Apple, did just that, stating that the group offers "strength in numbers."
Epic chief executive Tim Sweeney reported that his company received "vast amounts of communication" from app developers supporting his company's lawsuit against Apple. He noted that, "Apple and Google have infinite ways of retaliating without it being obvious to the outside world."
"It is very stressful to go through, you know, a fight with two companies that are over 200 times our size," he added.
Related:
Apple and Epic Games Spar Over Returning Fortnite to the App Store, The New York Times, 9/28/20
Google Demands 30% Cut From App Developers in Its Play Store, The New York Times, 9/28/20
Google's Epic Response: Android 12 Will Make It Easier to Install App Stores, VentureBeat, 9/28/20
Topics:
Anticompetition
,
Antitrust
,
App Store
,
Apple
,
Apps
,
Basecamp
,
Blockchain.com
,
Coalition for App Fairness
,
Developers
,
Epic
,
European Union
,
Fortnite
,
Google
,
Google Play Store
,
Justice Department
,
Kirsten Daru
,
Lawsuits
,
Match Group
,
Peter Smith
,
Sarah Maxwell
,
Smartphones
,
Spotify
,
Tile
,
Tim Sweeney