Android operating system co-creator Andy Rubin has introduced his Essential Phone that he says can be dropped onto concrete without breaking. The new smartphone, which will run on Android software, has magnetic connectors for a 360-degree camera or charger. Priced at $699 and available only in the U.S., Essential Phone will come without preinstalled apps or a need for yearly updates. Rubin also unveiled Essential Home, a voice-activated device that controls appliances. Both products are part of Rubin's Playground Global incubator.
The Wall Street Journal notes that not all analysts are bullish about Essential Phone's prospects. "How is our everyday experience using this phone going to be different?" asked Jackdaw Research chief analyst Jan Dawson. "Is it just the fact that if we drop it it won't break?"
Competitors such as Samsung already offer a 360-degree camera. Andreessen Horowitz analyst Benedict Evans notes that Apple already dominates the "high-end of the smartphone market," doubting that Essential will change that market. Rubin hasn't said which carriers will support and sell the phone, and doesn't yet have a release date.
Gartner reports that "budget friendly price tags" are what consumers are looking for. Chinese companies Huawei, OPPO Electronics and Vivo Communication, which offer "desirable features at affordable prices," have captured 24 percent of the market in Q1. WSJ suggests that Essential Phone's biggest draw may be Andy Rubin who, in addition to co-creating Android, built T-Mobile's Sidekick, a precursor to the smartphone, and led Google's Android business for ten years.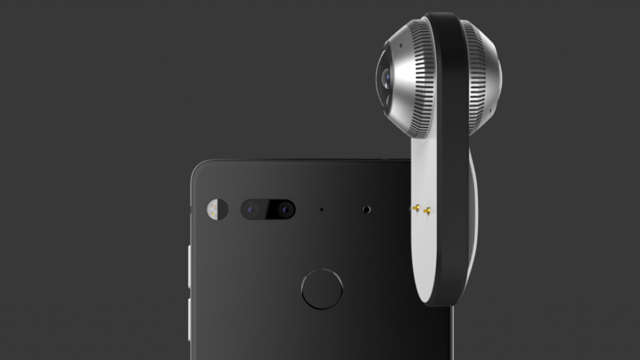 Bloomberg reports that, "the phone's display fills most of the front, save for a camera cutout, slim bezels and a small chin at the bottom." The phone contains a Qualcomm processor and USB-C port for charging as well as an 8-megapixel front camera and 13-megapixel rear sensor. The sides are made of titanium and the back is ceramic, coming in black, gray, white and gold-like "Ocean Depths."
The puck-sized Essential Home uses a custom operating system called Ambient OS, sports a circular screen, and follows voice commands to play music, set timers and control lights. "The product is similar in scope to the Google Home and Amazon Echo, but its small size probably means Essential sees it as more digital assistant than speaker."
Rubin relied on hardware designers from Apple, Google and Samsung to create his new company, according to Bloomberg.
Topics:
360-Degree Camera
,
Ambient OS
,
Andreessen Horowitz
,
Android
,
Andy Rubin
,
Apple
,
Benedict Evans
,
Digital Assistant
,
Essential Home
,
Essential Phone
,
Gartner
,
Google Home
,
Huawei
,
Jackdaw Research
,
Jan Dawson
,
OPPO Electronics
,
Playground Global
,
Qualcomm
,
Samsung
,
Sidekick
,
Smartphone
,
T-Mobile
,
Vivo Communications