The first Android Wear smartwatches will enter the market next week. The Samsung Gear Live and the LG G Watch will both run Google's Android Wear operating system, which requires an Android smartphone with the companion app to work. Users with an Android Wear smartwatch can check their smartphone's notifications from a quick look at their wrist. The most notable feature of the new software is Google Now, an online personal assistant.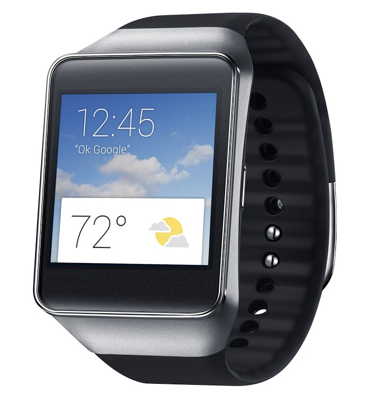 The Android Wear operating system works on both watches with square faces and watches with round faces. The smartwatches' touch screens constantly display the time, and a flick upward will bring up the "Context Stream," which displays a combination of smartphone notifications, weather forecasts, pedometer, and Google Now alerts. Voice commands help users perform actions with the wearable.
Google Now is the online personal assistant that anticipates information that users might want. For example, the watch will buzz to tell users to leave for an event on their calendar or how long it will take to get to work based on current traffic information. It also might alert users to new information based on the user's previous search query.
According to The Wall Street Journal, Google Now might be exactly what Google needs to set itself apart in the wearables market: "Because Google can piece together all this information, it's hard to imagine any competing smartwatch platform, even Apple's own expected model, delivering such relevant and timely alerts."
The hardware to run Android Wear still leaves a little to be desired for some early reviewers. Both have 1.6-inch touch screens and replaceable bands. The Samsung Gear Live starts at $199 while the LG G Watch starts at $229. Ars Technica found the Samsung Gear Live (pictured above) to be the better of the two for its crisp and colorful screen, comfort, and added features such as a heart rate monitor.
Later this summer, Motorola is releasing its Moto 360 watch, which will also operate on Android Wear. Fossil and other traditional watchmakers are currently developing their own smartwatch hardware. In terms of apps, Google is still updating Android Wear to offer enhanced support for the apps.
Related News:
Google's Big Bet on the Future of UI: Gadgets That Predict Your Needs, Wired, 7/1/14
Topics:
Alerts
,
Android
,
Android Wear
,
Apple
,
Apps
,
Calendar
,
Context Stream
,
Display
,
Fossil
,
Google
,
Google Now
,
Hardware
,
Heart Rate Monitor
,
Internet
,
LG G Watch
,
Moto 360
,
Motorola
,
Notifications
,
Operating System
,
Pedometer
,
Samsung Gear Live
,
Search
,
Smartphone
,
Smartwatch
,
Software
,
Touch Screen
,
Traffic
,
Voice Commands
,
Watch
,
Wearables