The long-rumored Amazon set-top box, an expected rival to Roku and Apple TV, is reportedly going to be produced by Lab126 and take the form of a dongle or stick similar to Google's Chromecast. Amazon's device could also compete with game consoles such as the Xbox and PlayStation, as it is expected to support streaming for full PC game titles. Streaming games could provide Amazon with a competitive advantage over rivals in the STB space and, if bundled as an Amazon Prime member benefit, could help justify its subscription cost increase.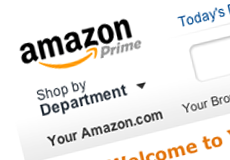 "The stick form factor is not a surprise, given that Roku has just launched its own device using the same design, and the Chromecast has done so well in terms of attracting buyers," reports TechCrunch. "But the interesting component could be the way the gadget approaches gaming. Streamed PC titles is in keeping with some of what we've heard before in whispers around Amazon's efforts, and makes sense given that the company sells digital download titles for PC and Mac direct from its ecommerce website."
"These streaming efforts will be more akin to the remote game service offered by OnLive, than to the local streaming that Nvidia offers through its Shield Android gaming console and Nvidia-powered gaming PCs. The titles, which are said to be top-tier games, will be streamed from Amazon's services at 30fps (which is comparable to most online video) according to our source."
While details of an Amazon STB or similar product have yet to be officially released, some reports speculate that the company would use such a device to promote its streaming Amazon Instant Video and Amazon MP3 offerings. If reports of streaming games also prove to be accurate, the device could possibly be teamed with the recently leaked Amazon gaming controller.
Insiders suggest the Amazon product is currently in testing.
Topics:
Amazon
,
Android
,
Apple
,
Apple TV
,
Chromecast
,
Console
,
Controller
,
Dongle
,
Download
,
Film
,
Game
,
Gamer
,
Gaming
,
Google
,
Instant
,
Lab126
,
Mac
,
Member
,
Microsoft
,
Movie
,
MP3
,
Music
,
Nvidia
,
Online
,
OnLive
,
PC
,
PlayStation
,
Prime
,
Program
,
PS4
,
Roku
,
Series
,
Shield
,
Show
,
Song
,
Sony
,
STB
,
Stick
,
Stream
,
Streaming
,
Subscribe
,
TV
,
Video
,
Xbox