Amazon first indicated its ambition to put Alexa into cars several years ago, and in 2018 introduced Echo Auto, designed to be integrated into vehicle entertainment systems. Since then, Audi and BMW began selling some models that incorporate the company's digital assistant. But Amazon faces stiff competition from Apple and Google, which have already made inroads, and some vehicle manufacturers are loath to adopt third-party technology. Although Amazon won't generate much revenue initially in the auto market, the company believes that opportunities will grow much larger in the future.
Bloomberg reports that Gartner senior research director Mike Ramsey noted that, "Amazon wants to get into the car in a big way … [because] they sense that there is a big opportunity." Last month, Alexa Automotive vice president Ned Curic stated that "the real North Star for us is to be embedded with all the cars." "We're working very hard to get there because we believe that is the best experience," he said.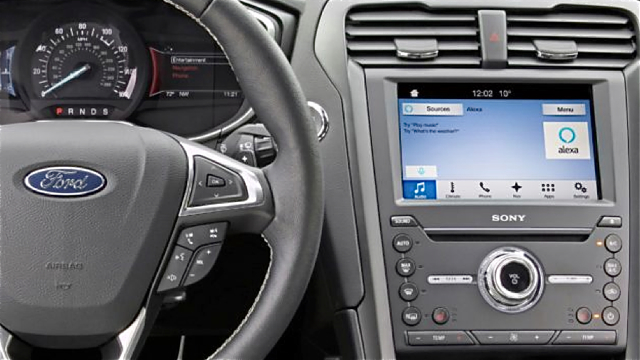 Amazon's first connection with the auto industry began as an experiment in 2016, when "Hyundai Motor rolled out the first application linking Alexa to a big carmaker in a tool that let owners of some models start their vehicle or set the climate control from an Alexa device."
A year later, Amazon hired Curic, who came from Toyota Motor's North American subsidiary, to head its automotive unit. He brought in staff from "Lab126, the San Francisco Bay Area hardware division behind the Echo speaker, and Amazon Web Services" and also sought staff that were "veterans of German stalwarts like Daimler, BMW and Volkswagen, companies that have been among the most aggressive in exploring voice software."
Amazon's challenge is that Google and Apple dominate smartphones, which are used by the 62 percent of people who rely on voice to control music and apps, according to a survey by Voicebot and startup Drivetime. Thirty-two percent "opt for the software included in their car's entertainment system while six percent use different technology, including the Echo Auto."
"Amazon's Achilles heel is not having a play on the phone," said Aiqudo chief executive John Foster, whose company tailors mobile applications for voice control. "They're going at it the best way they can. But I do think they suffer from this disadvantage that Google is really starting to make clear."
Google, whose Android is the world's most popular operating system, has already built ties in the U.S. for its Assistant with Fiat Chrysler Automobiles, Renault-Nissan-Mitsubishi and Volvo. "Google has a much bigger footprint in the auto industry than Amazon does," said Ramsey. "They're getting big wins. Amazon is just starting to scratch the surface." Meanwhile, Daimler is using proprietary voice software, powered by Nuance Communications, for its Mercedes-Benz User Experience system.
"Each of these manufacturers wants to preserve their own brand" in the car, said Nuance marketing executive Richard Mack. "When you press that button on the steering wheel, Mercedes would much rather see their emblem come up rather than a Google or an Amazon or a Microsoft logo."
Topics:
Aiqudo
,
Alexa
,
Alexa Automotive
,
Amazon
,
Android
,
Apple
,
Audi
,
Automotive
,
BMW
,
Daimler
,
Drivetime
,
Echo
,
Echo Auto
,
Fiat Chrysler Automobiles
,
Gartner
,
Google
,
Hyundai
,
John Foster
,
Lab126
,
Microsoft
,
Mike Ramsey
,
Ned Curic
,
Nuance Communications
,
Renault-Nissan-Mitsubishi
,
Richard Mack
,
Smartphone
,
Toyota
,
Voicebot
,
Volkswagen
,
Volvo