E-commerce giant Amazon reportedly has plans to open its first brick-and-mortar store in the heart of New York City. The company's new space on 34th Street across from the Empire State Building may likely be used as a mini warehouse that will handle same-day delivery, product returns, and pick-ups of online orders. A physical store is expected to help provide faster service and delivery for New Yorkers in addition to building more brand recognition for the online-based company.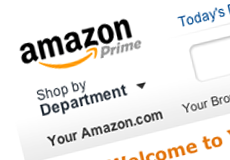 Though the company has not confirmed the rumored retail space, Amazon is expected to open the new location in time for the holiday season, according to The Wall Street Journal. The heavy foot-traffic on 34th Street due to the number of tourists and shopping attractions makes it a particularly attractive location for a physical store.
The Amazon store will be just a block away from Macy's flagship store, which draws more than 20 million annual visitors. The e-commerce retailer may even use the new space as a showroom for some of its electronic products, such as Kindle e-readers, the Fire smartphone, and Fire TV set-top streaming boxes.
Opening a physical store could also help Amazon become a competitor in the grocery business. Most of Amazon's massive warehouses are located far outside cities and that makes it difficult for Amazon to deliver groceries as part of its Amazon Prime Fresh program. Amazon drops off food and household goods within two days, but that's too long when customers could be going to a nearby Walmart or Costco for the same products.
The online retailer may open other urban stores if the New York experiment is successful. The location should help decrease the shipping costs from distant warehouses, but the revenue will have to offset the costs of leases, employees in brick-and-mortar stores, and other retail expenses. Until now, the company has avoided these types of expenses, even with the physical pick-up locations known as Amazon Lockers. Customers can pick up and return their orders at the electronic lockers set up in convenience stores and parking garages around the U.S.