After a year of limited availability, Amazon is officially launching its Luna cloud streaming subscription game service in the U.S. with new channels and integration with Prime and Twitch. Amazon Prime Gaming already offers a quantity of downloadable monthly games. Luna+ expands those offerings and adds three new a la carte channels — for Twitch, Jackbox Games and arcade favorites. "Play high-quality and immersive games, without lengthy game downloads, hardware upgrades, or game updates," Amazon announced. Amazon debuted Luna in September 2020, offering it on an invitation-only basis as it tested the service.
Those who pay $139 per year to be part of Amazon Prime will get access to a rotating selection of Luna games through a Luna Prime Games channel. CNET writes that "game saves will be kept" through monthly cycles "even if the player isn't a Luna+ subscriber yet."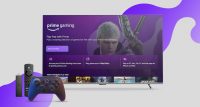 As it launches Luna nationwide, Amazon has also announced three new Luna+ game channels that bundle other games for separate subscription fees of $5 monthly per channel. These include Amazon's Retro gaming channel, so users can "relive the glory days of arcade gaming" with chestnuts from Capcom and SNK.
The Jackbox Games channel adds all the company's multiplayer games and offers a new feature called Luna Couch that allows multiplayer and screen sharing options. This cloud-based feature "lets you invite others to join a multiplayer gameplay session instantly, even if they don't have a Luna subscription," Amazon says.
A third channel lets users broadcast Luna gameplay to Twitch "with just a few clicks on devices you already own," facilitated by the latest Luna update on a PC, Mac, or Fire TV. A broadcast button lets users stream gameplay live with a camera feed overlaid on-screen, "providing a new, simple way to broadcast to friends or the Twitch community." Those with Fire TV and Fire tablet, can use a QR code to connect their phones as both webcam and mic.
Amazon has also made available to Luna+ subscribers a Family Channel of games for $2.99 per month and a Ubisoft+ Channel for $17.99 per month. Those who "lock in founder pricing" by March 31 can retain those rates, including $6 per month for Luna. As of April 1, the Luna+ subscription rises to $10 per month and Family Channel to $6 per month.
Amazon is also selling a Luna Controller at an introductory rate of $50 through March 14, and TechCrunch says it is making available a downloadable on-screen controller app as "an option for new or casual gamers without a controller who want to check out side-scrollers, turn-based RPGs, trivia titles and more."
Topics:
Amazon
,
Amazon Luna
,
Amazon Prime
,
App
,
Capcom
,
Cloud
,
Cloud Gaming
,
Family Channel
,
Fire TV
,
Gaming
,
Jackbox Games
,
Luna
,
Luna Controller
,
Luna Couch
,
Luna Plus
,
Luna Prime Games
,
Mac
,
QR Code
,
Retro Gaming
,
SNK
,
Subscriber
,
Subscription
,
Twitch
,
Ubisoft Plus
,
Video Game