Instagram is making changes to its videos, adding auto-generated captions in 17 languages even as it discontinues support for the standalone IGTV video app to "focus on having all video on the main Instagram app." It is eliminating the in-stream advertising known as IGTV ads while exploring ways to help creators monetize the short-form Reels format that "continues to be the largest contributor to engagement growth on Instagram," according to the social platform. Instagram says it will "begin testing a new ad experience" later this year that will "allow creators to earn revenue from ads displayed on their Reels." 
Creators that have been actively monetizing with IGTV video ads "will receive a temporary monthly payment based on recent earnings," the Meta Platforms-owned video sharing service said in an announcement, noting the changes are "based on feedback we've heard from creators" and include "features like a full-screen viewer and the option to tap to mute."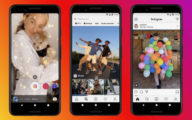 Instagram head Adam Mosseri tweeted that he is excited about the captioning feature, which "empowers those in the deaf and hard-of-hearing communities" while allowing others the option to experience the videos without sound by toggling the caption feature on or off.
Instagram "confirmed to TechCrunch that auto-generated captions are launching in 17 languages, including English, Spanish, Portuguese, French, Arabic, Vietnamese, Italian, German, Turkish, Russian, Thai, Tagalog, Urdu, Malay, Hindi, Indonesian and Japanese." Support for additional languages is coming soon. The AI powering the captions will improve as it learns, resulting in more robust captions over time.
TechCrunch notes that Instagram "has been focused on expanding Reels, its short-form TikTok rival, by releasing similar features. Earlier this year, Instagram announced that users can now remix any video content on the app, not just short-form Reels videos."
"The company officially launched Remix, its version of TikTok Duets, last March. Late last year, Instagram rolled out a new 'Reels Visual Replies' feature that lets users reply to comments on posts with Reels. The feature is similar to TikTok's video replies, which allow users to reply to comments on their content with video responses."
The retirement of the IGTV app follows Instagram's announcement in October that it would cease using IGTV branding as it sought to consolidate its video offerings. The moves signal "a shift away from long-form content in general, which has been a key revenue driver in other video apps," reports TechCrunch.
"Short-form content is great for engagement, but effective monetization is difficult, because you can't insert mid or pre-roll ads into 30-second clips. That's why YouTube has been looking to promote its own short-form video format 'Shorts' as a supplementary channel to help creators build their main content stream, and why TikTok has been looking to add in longer clips."