Amazon Kids+ is debuting its first free original mobile games. Ad-free mobile games based on the Amazon Original children shows "Super Spy Ryan" and "Do, Re & Mi" are now available for any smartphone user, even those who don't subscribe to Amazon Kids+. The company says it "wanted do something special for kids and parents who use smartphones." The games are the result of a two-year development effort by "the Amazon Kids+ mobile games team," according to Amazon Kids+ global head of content Natasha Lipovac. Amazon has been very active in the children's arena.
The company released the Amazon Glow interactive projector for kids this month, and to power it has been touting its $2.99 per month Amazon Kids+ content subscription, which provides access to children's games, books, TV shows, movies and more.
"Super Spy Ryan" is available now on the Apple and Google Play app stores in the U.S., UK, and Ireland, and will arrive shortly in Canada, Germany and Japan. "Super Spy Ryan" is coming soon to the Amazon Kids+ subscription on Amazon Fire Tablets, where "Do, Re & Mi" is currently available. "Do, Re & Mi" will soon be offered through the Apple app store in the U.S., UK, Canada, and Ireland, the company says in its announcement.
Developed in collaboration with the teams at Ryan's World, Pocketwatch Games, and Amber Studio, the "Super Spy Ryan" game borrows from "the Amazon Kids+ Original special of the same name and brings it to life in a fun, kid-safe, multiplayer romp for ages 6-9+," the company says. In the game, kids compete to rescue stolen birthday gifts from the evil Packrat's lair.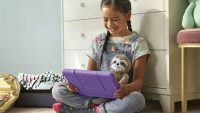 "Designed with kid safety in mind — there are no friend lists or chat features," and players compete using anonymous game-themed usernames. Parents can also put the game in single-player mode, and there is also a "party mode" letting players game together on the same Wi-Fi network using a special code.
The "Do, Re & Mi" mobile game was developed in collaboration with About Fun and the team behind the Amazon Kids+ Original series of the same name on Prime Video. The music education game is designed for preschoolers ages 3-5 and lets them create music by mixing and matching different instrumental loops with their own instrumental recordings and vocals.
"The new games are published by Amazon Mobile, making them the first mobile games published directly by Amazon since 2015," writes TechCrunch, noting that "Amazon's broader gaming division, however, has since released its own titles, including 'New World' and 'Lost Ark.'"
Topics:
About Fun
,
Ad-Free
,
Amazon
,
Amazon Fire
,
Amazon Glow
,
Amazon Kids
,
Amazon Kids Plus
,
Amazon Mobile
,
Amazon Originals
,
Amber Studio
,
Apple
,
Children
,
Do Re & Mi
,
Gaming
,
Google Play
,
Lost Ark
,
Mobile Game
,
Natasha Lipovac
,
New World
,
Pocketwatch Games
,
Prime Video
,
Ryan's World
,
Smartphone
,
Subscription
,
Super Spy Ryan
,
Wi-Fi