On Monday, Amazon will introduce a new business unit, Just Walk Out, to sell the technology that makes its Amazon Go cashierless convenience stores possible, with a website launching on the same day. The company said it already has several signed deals, but would not be more specific. According to Loup Ventures, the market for retail stores without cashiers could grow to $50 billion. As Amazon vice president of physical retail/technology Dilip Kumar put it, "Do customers like standing in lines?"
Reuters reports that, "unlike Amazon Go stores, shoppers will insert a credit card into a gated turnstile [branded Just Walk Out by Amazon] to enter, rather than scan an app." With the exception of the turnstile, all the other store branding will be controlled by the retailer. Similar to Amazon Go, "the store will then bill the credit card once the person or group leaves the store — no barcode scans or checkout lines necessary."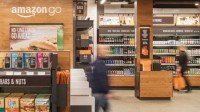 Amazon will install the ceiling cameras and shelf weight sensors at the stores of retailers who sign up, "whether they are new locations or retrofits" and have a 24-7 support line. Just Walk Out also uses Amazon Web Services. The company is reportedly "in talks to bring its technology to airport stores, for instance, rather than to Walmart or Target," although Kumar said Amazon could "potentially" sell the system to big box competitors.
He provided no details on Just Walk Out's business model or pricing.
Data ownership is a potential hot button issue. According to Kumar, "shoppers who desire a receipt will be able to type their email into a kiosk at any store … [and] Amazon will send receipts to that address each subsequent time the credit card is used at a Just Walk Out location, no matter the retailer." He added that, "Amazon saves the email address and ties that to the credit card information, solely for the purpose of charging the customer."
"These are the retailers' customers," he said. "We prohibit the use of Just Walk Out technology data for anything other than supporting Just Walk Out retailers."
Vox reports that Amazon Go has "led to a burgeoning industry of startups trying to sell similar tech to retail stores." One, Standard Cognition, explained that it has "already retrofitted three stores with no-checkout-line technology for a U.S. retailer and … will announce the retailer this spring." Retailer 7-11 is starting to test out its own technology.
Startups Grabango and Trigo have received venture capital money to build out similar technology, with their pitch to potential customers being "they won't compete with them the way Amazon might, so they can trust that their in-store shopping data won't be weaponized by a competitor."
Amazon's move to sell its cashierless technology could someday be bad news for the 3.5 million Americans who hold cashier jobs today. On its FAQ page, Amazon instead noted that stores will "still need to employ workers to do things like stock shelves and greet shoppers as they enter and exit." Amazon's first Amazon Go convenience store opened in January 2018 on the ground floor of its Seattle headquarters.
Topics:
7-11
,
Airports
,
Amazon
,
Amazon Go
,
AWS
,
Barcode
,
Branding
,
Camera
,
Cashierless
,
Convenience Stores
,
Data Ownership
,
Dilip Kumar
,
Email Addresses
,
Grabango Co.
,
Just Walk Out
,
Loup Ventures
,
Retail
,
Seattle
,
Sensor
,
Shopping
,
Standard Cognition
,
Target
,
Trigo
,
Venture Capital
,
Walmart
,
Weight Sensors