According to the Association of American Publishers, in the first eight months of 2017, based on data from 1,200 publishers, revenue from audiobooks grew 20 percent, compared to print books sales increasing a mere 1.5 percent and e-books losing 5.4 percent. Amazon, which bought Audible in 2008, has been the dominant player, with Audible carving out a unique and profitable portion of the market. But Apple is now attempting to take on its rival with a redesigned iBooks e-book reading application for iPhones and iPads.
The Wall Street Journal reports that Audible "already accounts for about 41 percent of U.S. audiobook unit sales, according to researcher Codex Group." Its business model is that, "the publisher typically gets a set fee for each audiobook download, part of which is passed on to the author," but "when Audible owns the audiobook rights, print publishers no longer get a cut."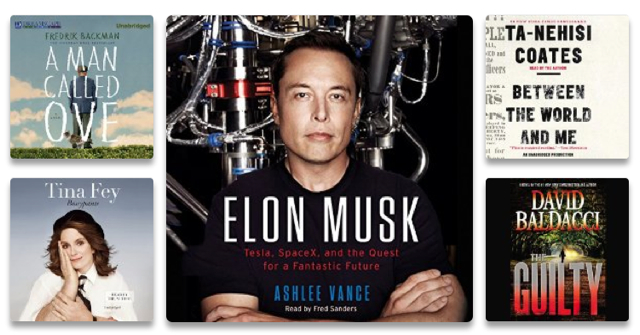 Trident Media Group chair Robert Gottlieb notes that, "what's different is that Audible is trying to get agents to sell them the audiobook rights before they go out with the other publishing rights." Audible tells agents that, "authors will get a competitive bidding process that could mean more money in their pockets, and will get more attention and marketing for their audiobooks." Audible also develops "exclusive audio content that differs from the print version."
Although Audible sells a la carte, it makes most of its money from subscriptions, which Audible publisher Beth Anderson says are "in the millions." Subscribers pay $14.95 a month for a single audiobook with a 30 percent discount on other titles. Recently, Audible has faced competition from Google, which began selling audiobooks through its Play Store. Walmart is also "working with Japan's No. 1 e-commerce retailer, Rakuten to sell audiobooks in the U.S."
Bloomberg reports that Apple "is ready to take on Amazon.com in the digital book market again, years after regulators forced the iPhone maker to back down from an earlier effort to challenge the e-commerce giant's lead." The company will release a new app that "will include a simpler interface that better highlights books currently being read and a redesigned digital book store that looks more like the new App Store launched last year," and also hired former Audible executive Kashif Zafar.
App testing includes "a new section called Reading Now and a dedicated tab for audio books," according to sources. In its early version of iOS 11.3, the app is now called Books rather than iBooks. Digital books was a "key part of Apple's service business," until 2012, when the U.S. Department of Justice sued Apple and publishers for an alleged "scheme to raise the price of e-books" that resulted in a $450 million fine for Apple.
Since then, Apple has "focused more on Apple Music, App Store sales, and movie rentals." But, says Bloomberg, chief executive Tim Cook is turning to e-books and audio books again because he's "pledged that services will generate about $50 billion in annual revenue by 2021, up from $30 billion last year" and thus is pursuing all potential sources of revenue.
Topics:
Amazon
,
App Store
,
Apple
,
Association of American Publishers
,
Audible
,
Audiobook
,
Author
,
Beth Anderson
,
Codex Group
,
Department of Justice
,
Digital Bookstore
,
E-Commerce
,
Google
,
Google Play
,
iBooks
,
iPad
,
iPhone
,
Japan
,
Kashif Zafar
,
Print Books
,
Publisher
,
Rakuten
,
Robert Gottlieb
,
Subscription
,
Tim Cook
,
Trident Media Group
,
Walmart