Alphabet just spun off its research lab X's autonomous vehicle project into a separate company named Waymo, to be led by chief executive John Krafcik. The move means the company believes its driverless car technology is nearing readiness for commercialization, due to advancements in sensor technology and breakthroughs in machine learning. Although Alphabet was an early leader in this field, the company has struggled to build a business around the technology, as Tesla, Uber and GM have moved forward. Alphabet is working with Fiat Chrysler on a ride-sharing service to launch next year.
The New York Times notes that spinning off Waymo allows the new company to "tap into the infrastructure and resources of Alphabet with the feel of an independent venture-backed company." Former Hyundai executive Krafcik says the technology could be used for everything from ride-sharing to long-haul trucking but "did not lay out a specific business strategy."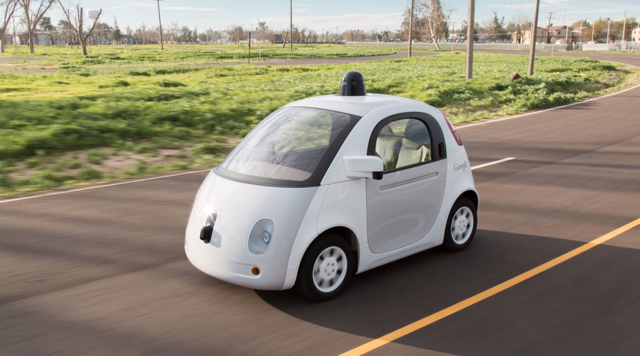 Since 2009, Alphabet's self-driving cars "have logged 2.3 million driverless miles" and "completed the world's first fully driverless ride on public roads last year in Austin, Texas."
Google's goal is to design a car "responsible for 100 percent of the driving," without steering wheels or pedals, which it believes is safer. Government regulations, however, currently require both. This lofty goal is more difficult, says Google, which is why other companies, including Tesla Motors and Uber have advanced.
Tesla offers Autopilot, a semi-autonomous feature, and Uber is testing self-driving cars in Pittsburgh and San Francisco. Other companies working in the sector are Apple, General Motors, which bought self-driving car startup Cruise Automation, and Ford Motor.
Up until now, Google has also been at a disadvantage in collecting "valuable on-the-road information" via "a ride-sharing network or an automaker," data that is seen as "a crucial part of helping its driving systems learn and improve over time." That's about to change, says Bloomberg, which reports that Alphabet "plans to start a ride-sharing service with Fiat Chrysler's minivans." Google and Fiat Chrysler are developing a semi-autonomous version of the Chrysler Pacifica minivan slated for service in 2017.
Krafcik reports the company is "adding new sensors to Chrysler vehicles," but didn't comment further. The companies say they will create "about 100 prototypes" for Google to test. Fiat Chrysler will also introduce a fully electric vehicle based on the Pacifica at CES 2017.
Topics:
Alphabet
,
Apple
,
Automobile
,
Autonomous Vehicle
,
Autopilot
,
CES 2017
,
Chrysler Pacifica Minivan
,
CTA
,
Driverless Car
,
Electric Vehicle
,
Fiat Chrysler
,
Ford Motor Company
,
General Motors
,
Google
,
Hyundai
,
John Krafcik
,
Las Vegas
,
Machine Learning
,
Pittsburgh
,
Prototype
,
Ride-Sharing
,
San Francisco
,
Sensor
,
Tesla
,
Uber
,
Waymo