The coronavirus pandemic will likely require people to continue to work remotely and Zoom Video Communications has responded with Zoom for Home, a new line of professional videoconferencing devices for those working from home. The first product, manufactured with DTEN and available next month, includes a 27-inch touchscreen with three wide-angle cameras and eight microphones, for improved video and audio. Zoom chief product officer Oded Gal noted that people on Zoom meetings all day long "prefer not to use a laptop for all these meetings."
The Wall Street Journal reports that average daily sessions using Zoom "soared to 300 million in April from 10 million at the end of last year." The first product, Zoom for Home – DTEN ME, priced at $599, is still primarily aimed at business users, but Gal also said that it could be used for remote learning in schools and universities. Zoom's rivals include Microsoft, with its Teams, and Cisco Systems, with its videoconferencing hardware and Webex service.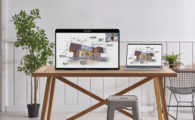 Although most people still use the free version of Zoom, the company did introduce a hardware-subscription service that combines "third-party videoconferencing hardware with its software," first in the U.S. and later internationally.
Due to all its non-paying users, Zoom's costs, including running its own data centers and payments to cloud providers for more capacity, "surged more than fourfold from a year earlier to $103.7 million in the last quarter as sales grew sharply to $328.2 million." Company chief executive Eric Yuan has emphasized that he "wants to remain focused mostly on business users," with the plan of working with third-party hardware companies such as DTEN.
The first device sits on a desk next to the user's laptop, and "the Zoom software that runs on the device will be integrated into a user's calendar, so they can pull up meetings as they happen or take calls as they come in, not unlike a phone."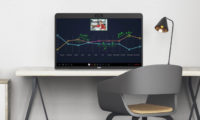 Engadget reports that the Zoom for Home – DTEN ME "really does seem like a scaled-down version of the typical videoconference hardware you often find in offices." Zoom Rooms head Jeff Smith noted that, "the hardware has to be an all-in-one thing, without a lot of assembly," versus "enterprise-level setups that often require multiple pieces of hardware like separate cameras, soundbars and monitors."
Zoom for Home – DTEN ME is "definitely designed to be user-friendly" and can be managed by an IT professional or the consumer. The interface is also different, in that "conferencing room software is designed to be shared with multiple people … [and] Zoom for Home is highly personalized."
Zoom for Home can also be used for those with a basic, free Zoom account. The system syncs contacts and the user's calendar and has a lock with PIN code. At $599, it is more expensive than the Google Nest Hub Max ($229), the 10-inch Echo Show ($229) and the large Portal+ ($279), but also offers a bigger touchscreen and multiple cameras/microphones.
"From a messaging and position perspective, Zoom for Home is very much work-first," said Smith. "But, now, there are all kinds of uses, and they're all very applicable to Zoom for Home as well."
Topics:
Amazon
,
Amazon Echo Show
,
Cisco Systems
,
Cloud
,
Coronavirus
,
COVID-19
,
Data Centers
,
DTEN
,
DTEN ME
,
Eneterprise
,
Eric Yuan
,
Google Nest Hub Max
,
Jeff Smith
,
Microsoft Teams
,
Oded Gal
,
Portal Plus
,
Remote Learning
,
Remote Working
,
Touchscreen
,
Videoconferencing
,
Webex
,
Zoom
,
Zoom for Home
,
Zoom Video Communications