The European Union's antitrust unit has broadened its focus of Big Tech companies to include voice assistants such as Siri and Alexa and the growing number of connected Internet of Things (IoT) devices. The EU's competition commissioner Margrethe Vestager noted the threat of a big company pushing the market until "competition turns into monopoly." With regard to IoT, she pinpointed voice assistants as the "center of it all," but included any digital device that records consumer data from Apple Watch to an Internet-connected refrigerator.
Bloomberg reports that Vestager, who is separately investigating Google's purchase of Fitbit, noted that a voice assistant "changes how you interact with things" because the user may only "be presented with an option" instead of all the products found in a store. In addition to smart refrigerators, the investigation will cover connected "washing machines, smart TVs and lighting" — but not connected cars — and seek information from about 400 global companies "in the value chain," including device manufacturers, service providers and standards setters.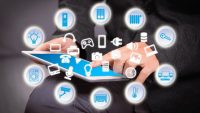 "We see interoperability is of the essence if this market is to remain open and contestable," she said. The EU is already looking into "Apple's treatment of music-streaming service Spotify Technology."
In recent years, Amazon, Google, Samsung Electronics and others have introduced an increasing number of smart devices, "allowing consumers to control a wider portion of their homes by a voice-activated speaker or remote app." But the EU is concerned that IoT devices "give the tech firms access to valuable data points about consumers … [and] are another way for tech giants to lock out competitors."
Vestager singled out "business-to-business digitalization … because here we see a potential of the value of that market doubling" until 2024.
Elsewhere, Bloomberg reports that Vestager's latest investigation, "follows years of relatively unchecked growth by technology giants into wearable devices and smart home products." By now, it adds, "Amazon and Apple make two of the world's most popular voice assistants, and they're baked into millions of home automation products." Although they allow rivals to "build for their ecosystems … functionality is typically limited for third-parties compared to their default offerings."
As a result, "smaller companies in industries like food delivery or fitness tracking could find themselves competing with the might of the world's biggest tech companies and cut off from potential users."