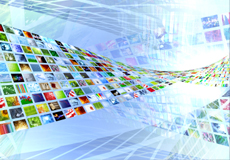 Yahoo! Connected TV has over 140 apps and will be introducing the Y! Connected TV Store to sell apps on a 70/30 percent revenue sharing model.
Yahoo! made a widget development kit available that provides publishers the opportunity to build new apps.
The company is rolling out broadcast interactivity that tailors ads based on viewer interests.
Device control technology allows television interactivity with smartphones and tablets.
Watch in 2012 for the platform to appear in new TVs by Sony, Samsung, Toshiba, LG and Vizio.